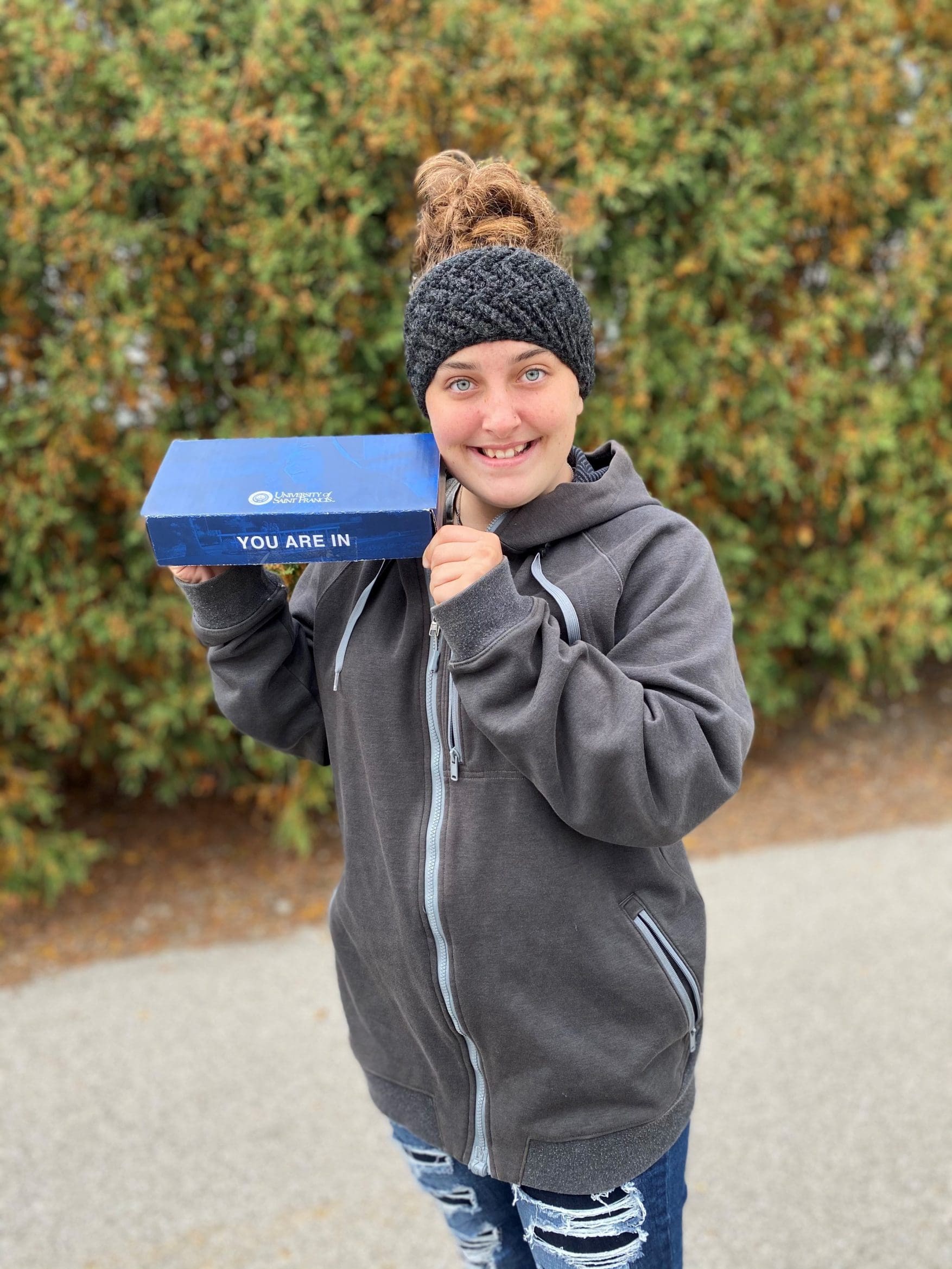 As best she can recall, and potentially underestimating, Little Sister Aja Wilson remembers her family moving 13 times growing up. Her mother, four brothers, and a sister were evicted a few times, and once, the house burnt down.
"Really, it was just normal for a lot of it," she recalled. "Toward the end we kept getting kicked out of the same house and going back with all of our stuff."
It's a hard story to tell, and she guesses she's told it more than 70 times. It never gets easier, but she continues to share it.
"I want to be the proof that anybody from anywhere or any background can make it to be anything they want," she said, simply yet purposefully. "I want to tell my story, I want to be that proof that somebody needs because sometimes we are told we can be anything we want, but it's hard to see because people from poor families and places that are not as forgiving can't do it or they are not supported enough or there's something standing in the way."
There has to be a greater purpose behind all that turmoil, and Aja is determined it must become a positive one. She's going to make it one by force if necessary. Despite all that adversity, Aja was able to overcome all of it by putting her mind to conquering life's challenges and to become something better, to become that and never giving up, never even hesitating.
That included doing all the extra credit, making sure her homework was done at school because that she could control, like little else in her life. She was always focused on improving her academics, building something special. She didn't give herself time to worry about where she'd sleep that night; instead, she concentrated all her energy on improving her mind.
And it's a wonderful mind. Aja ranks No. 4 in her graduating class at North Side with a 4.3 grade point average on a 4.0 scale. She's only 17 but has earned a Lilly Endowment Scholarship, meaning she'll have a full ride to whichever state university or college she chooses.
With that kind of background and her determination, Aja could become a senator, an astronaut, a teacher, a lawyer or a doctor. Nothing could hold her back, and finally the field ahead began clearing of obstacles.
So she decided to attend the University of Saint Francis with the goal of becoming a teacher and a football coach. Yes, a football coach.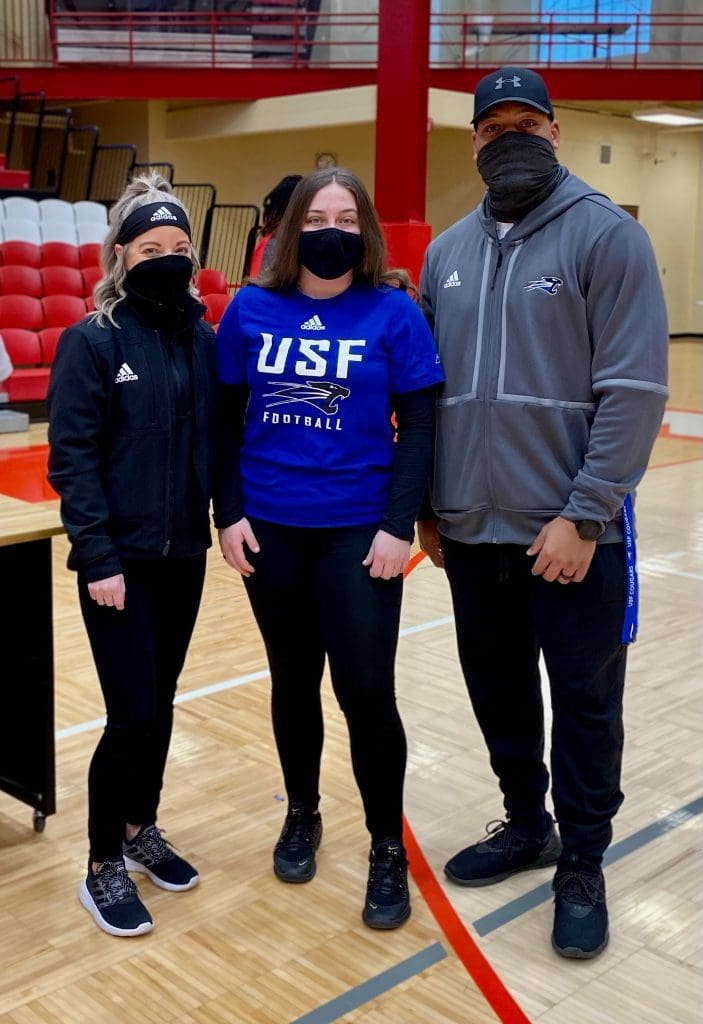 ---
There's another story behind that, too.
After Mike Brevard became North Side's football coach in 2017, he was Aja's freshman career teacher the following fall. She was too shy to talk much, so he worked at getting her to open up. Two years later, Aja started an internship with North Side Athletic Trainer Lindsey Foust which meant she spent time on the football field watching Brevard work.
"In the classroom, I'm very casual and on the field it gets cranked up a notch because I'm in my element," Brevard said. "She saw how I used the game of football to change lives, and she saw the way I spoke to students, and from there, those casual conversations kind of turned into, `How do you do what you do?'"
Everything Brevard does comes from the heart because he overcame his own tough start, battling homelessness and living in an Indianapolis family shelter with his mother. He finally played at Ben Davis and earned a scholarship to play at St. Francis.
When Aja joined Lindsey at practice, she began memorizing everything Brevard was doing and saying.
"Everybody knows who he is," Aja said. "He's that person for the kids. He's not just their coach, he's their guy that they need. Especially in high school and college, a lot of people don't have their dads anymore so there's that for them. I'm not saying I want to be people's dads, but I want to be that person for people to go to."
Her goals are so much larger than Xs and Os, but when Brevard was handling his pregame head-coaching duties at North Side, Aja would run the linebacker drills during warmups. Her goals are more than about what football is. But how it's the ultimate team sport and that it requires connections and relationships.
"She's special," Foust said. "Aja is a very bright light in a dark place. With everything this girl has been handed in her life and all the adversity, she doesn't lose her spirit. She's the first person to step up and help somebody else out. She has the biggest heart I have ever seen. You would never know what she's gone through by being around her."
Foust remembers Aja opening up to tell the North Side team about her experiences. With 35 teammates, administrators, and all the coaching staff watching, she let everyone see beneath the surface of who she was and why.
"This would have been the first time I openly told people what really happened to me without them being super close to me," Aja said. "That's also the first time I said out loud to people, `This is why Coach B is like a dad … wait, no, this is why Coach B is my dad.' This moment was definitive for how I act today and how I think of important figures in my life."
It was a powerful, inspiring moment for everyone, including Aja.
"Her coming out of her shell gives her the power to empower other people, too," Foust said. "Nobody else knew [her story]. For her to share that with other people… For her to have that platform and use her voice… She is one of the strongest human beings I ever met."
The great thing is that Aja had decided to attend St. Francis because it felt like family. She didn't find out until later that Brevard and Foust were both joining the Cougars' staff.
She wants to become an elementary teacher, and she'll be excellent at that, too.
Does she ever allow herself to relax?
"I try not to too much because once you become comfortable, you start to become average, and I don't ever want to become average," Aja said.
If you'd like to find out more about Big Brothers Big Sisters call 260-456-1600 or go to bbbsnei.org. To learn about our programs, click here.