The Annual Gourmet Dinner is the largest and most traditional annual fundraiser for Big Brothers Big Sisters. It's an all-inclusive evening featuring a guest speaker, dinner, drinks, prizes, and exceptional networking possibilities.
Photo: 2022 speaker, Coach Mike Woodson (Indiana basketball) with one lucky fan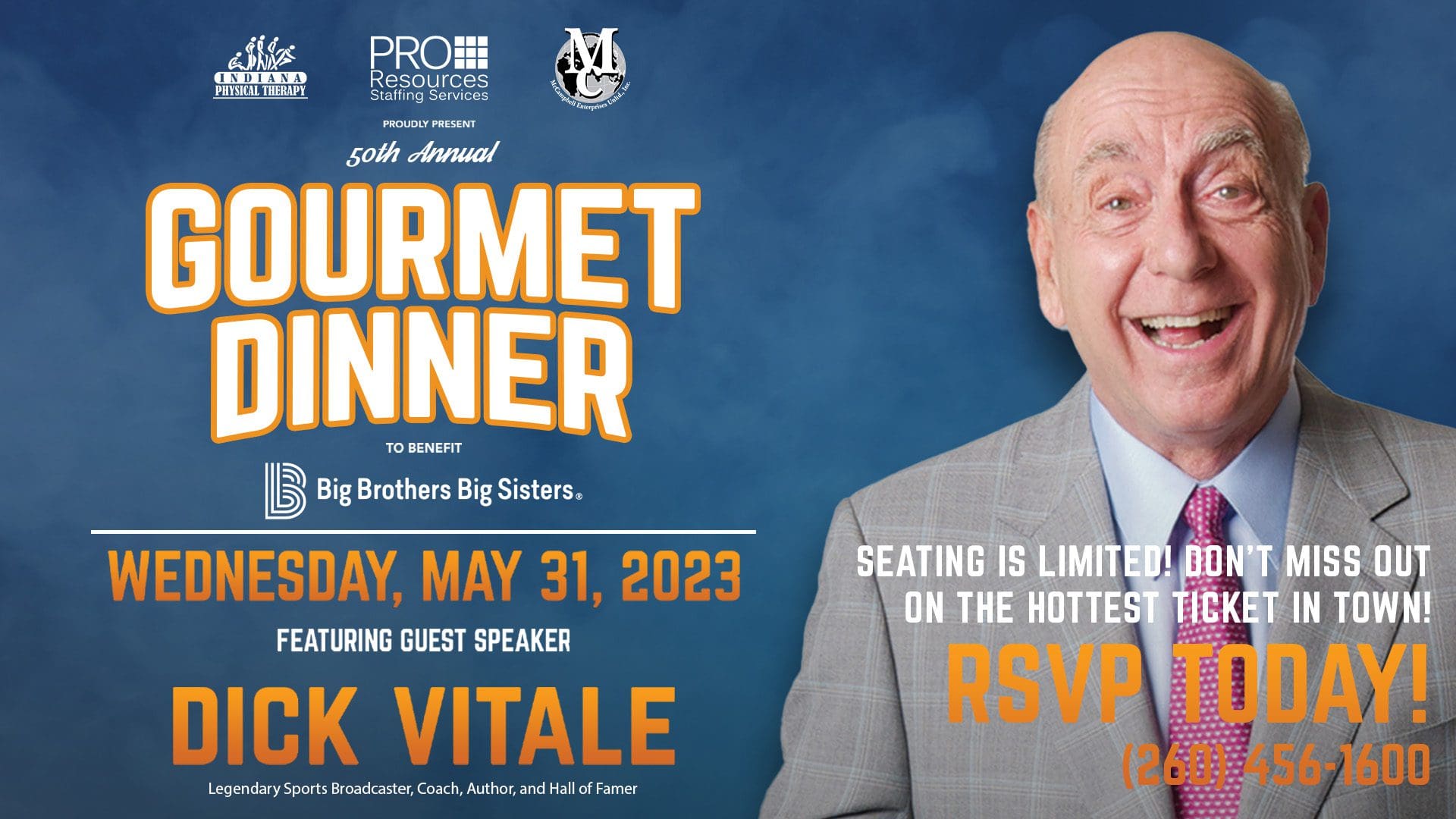 WEDNESDAY, MAY 31 - GRAND WAYNE CONVENTION CENTER
120 W Jefferson Blvd, Fort Wayne, IN 46802
Reception 6:00 PM | Dinner 6:45 PM
FEATURING GUEST SPEAKER DICK VITALE
Legendary Sports Broadcaster, Coach, Author, and Hall of Famer
VIP Silver Table of 8 (VIP Reception Admission)
$5,000
Enterprise Table of 8
$3,500
Corporate Table of 5
$2,500
INDIVIDUAL TICKET OPTIONS
Individual Ticket (Past Attendee)
$400
Individual Ticket (First-Time Attendee or UNDER 21)
$300
Hosted annually since 1974, our Gourmet Dinner has become one of the area's premier charity events with a guest list of over 1,000 including some of the area's most notable business and community leaders.
The evening includes a reception, multi-course meal, keynote speaker, and grand prize giveaway – all to raise funds and awareness for our mission.
We also offer event sponsorship opportunities where we partner with you or your business to empower potential together. With various types and levels of sponsorship, we have the perfect opportunity for every business.
Give us a call for more specifics and to begin our partnership today.