Decatur man calls on local residents to help Big Brothers Big Sisters
By JAYLYNN ANDREWS
Born and raised in Decatur, Pat Strack knows the impact an organization like Big Brothers Big Sisters can have on a child in need. Growing up, he had a personal view to that impact through his cousin Josh, who was a Big Brother to a boy named Shannon. Like many at-risk children in this area, Shannon was in need of a friend, someone who could be there for him consistently and act as a good male role model. Big Brothers Big Sisters provided that for Shannon, as they do for the almost 1,200 other children in Northeast Indiana, including Adams County.
"Just being involved with them, doing stuff with them, I could see how much it impacted Shannon to have that Big Brother," Pat said.
That's why the 37-year-old tech manager for Palfinger Liftgates is rallying the community for his bowling team for the annual Adams County Big Brothers Big Sisters Bowl for Kids' Sake fundraiser on April 30th at Villa Lanes. With more than 400 children on the waitlist for a Big Brother or Sister, every dollar raised by Pat's team through Bowl For Kids' Sake will directly benefit a child in need, allowing BBBS to create & support more one to one mentoring matches — and every dollar raised from the Adams County session, will go to serve more children right here in Adams County!
For Pat, the choice to get involved with this specific fundraiser was a no-brainer. His wife Nici, also a Decatur native, is a passionate bowler — in fact, she and Pat met for the first time in Villa Lanes, where this year's fundraiser will be hosted. When Pat learned of the fundraiser online, he knew it was the right choice for him. It's easy to support. Participants form 5-person teams for a session of bowling, with each team member canvassing family, friends, and Good Samaritans for donations to benefit children in need.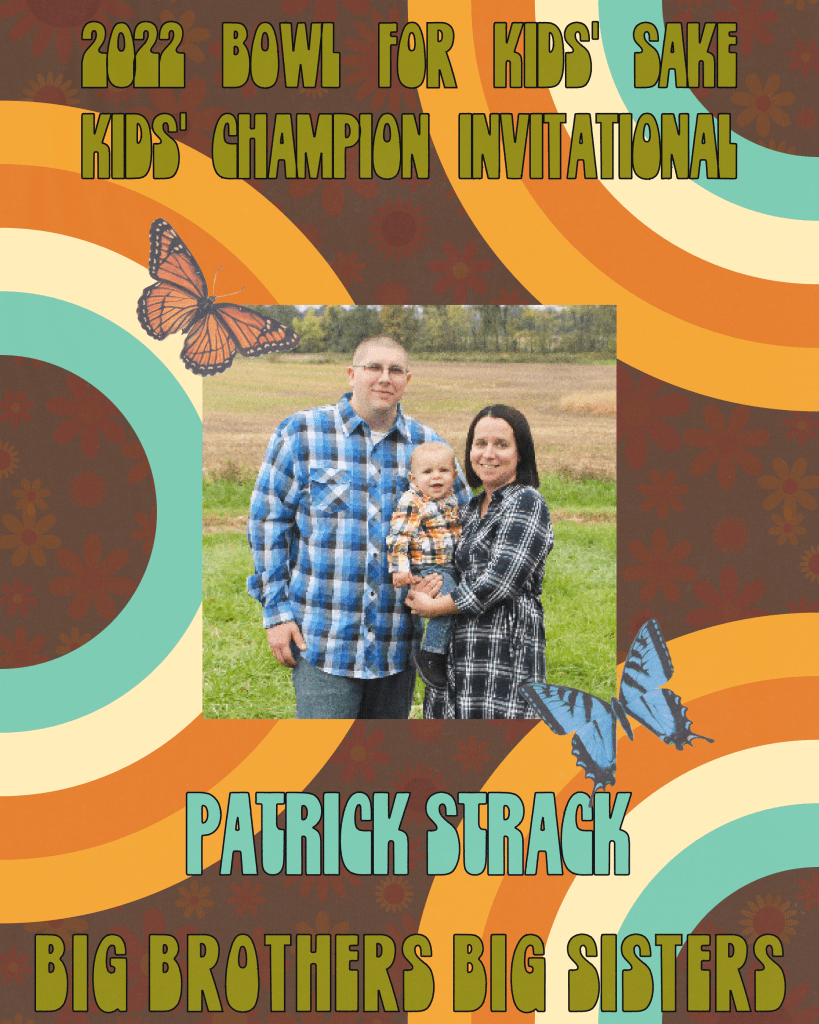 "It's had a fun and exciting impact on my life to raise money for Big Brothers Big Sisters," Pat said. "I enjoy doing what I do for them. I'm just happy knowing that the money is going towards something good for the children."
This year, Pat's fundraising goal is $10,000 — a steep call for a small town like Decatur, but Pat is optimistic that the residents of Adams County will step up to the plate. In years past, Pat has been the top fundraiser of the entire event, raising over $5,000 each year he participates. As of press time, Pat's fundraising page has $0 in the pot, but he has faith that will change once word gets out.
"It's got to be in your heart to do it," said Pat. "If you find it in your heart to want to give back and help children out, then this is the perfect way to do it, especially if you don't have the time to be a Big Brother or Big Sister yourself. Every dollar counts."
To help Pat reach his goal, visit his Bowl for Kids' Sake fundraising page at https://ca-p2p.engagingnetworks.app/23345/2022bfks/132220/pat-strack-determined-2022
To learn more about becoming a volunteer, check out our programs page here: https://www.bbbsnei.org/get-involved/programs/