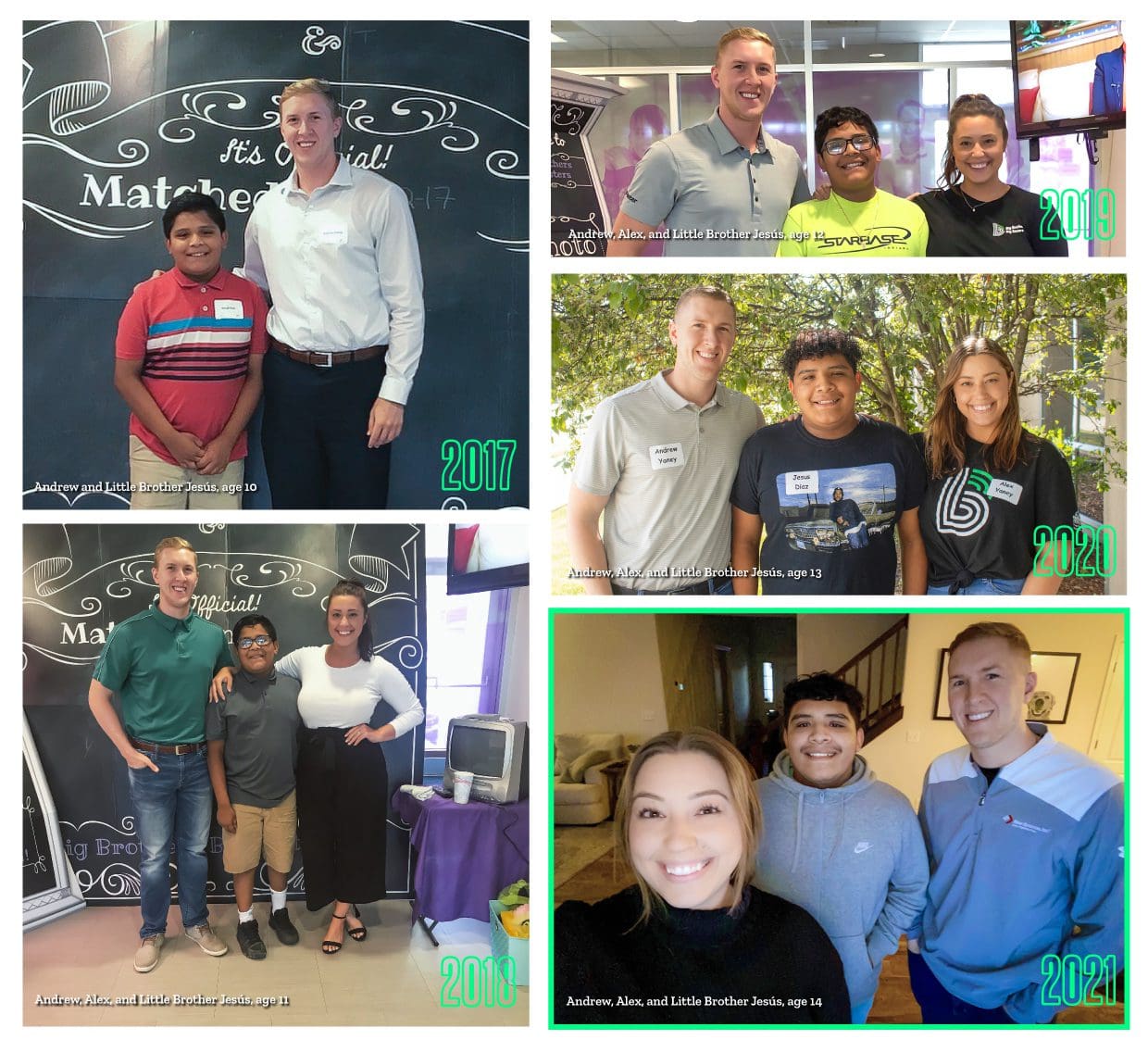 As Andrew Yaney and Alex Clinger started getting serious about their relationship in 2017, she encouraged him to become a Big through Big Brothers Big Sisters. After all, as community development director for the organization, that was her job. She's worked seven years for BBBS, including a two-year internship while she was attending Ball State.
"We sat down one day and talked about it," Andrew said. "We were starting to see our future together, and we decided to wait until we were married and just do it then."
Then they attended BBBS's annual Gourmet Dinner where a video changed Andrew's decision. He was soon matched with 10-year-old Jesus, but after he proposed to Alex a few months later, she asked Jesus if it would be OK if she became his Big Sister as well.
"I just remember him lighting up, his eyes got really wide and he had this big smile," Alex said. "That is one of my favorite memories. Cue the tears."
That's how Andrew and Alex became a Big Couple for Jesus who is now 14 and is already taller than Alex and gaining on Andrew.
But who would want to take their job home with them to that extent? After all, Alex tries all day to find ways to entice volunteers from the community to become a Big, and it's not an easy thing to do.
"I think it's a testament that not only do I work for the agency, but I also thoroughly enjoy what our agency has to offer," Alex said. "My job is to find Bigs who do what Andrew and I are doing for Jesus, and that to me is just the coolest thing ever.
"Sometimes, when you are up there and trying to inspire people, it's hard to really articulate the difference that it makes not only in the Littles' lives but also in the volunteers' lives. Having that personal touch and story to tell them I think is very beneficial."
It's one of the greatest secrets and treasures about being a Big is that the adult gets just as much or more out of a match than the child.
"I think the biggest thing is that it kind of puts things in perspective for what you take for granted in your own life," Andrew said. "You just become a lot more appreciative of things."
Even when Andrew was the primary Big for Jesus, they still often hung out with Alex, and Jesus sometimes opens up to her more than him. Andrew said having his wife involved means they have more opportunity to be a positive influence on Jesus, and it's good for their Little to sometimes hear alternative views.
"I think we're starting to get past the point of mentor/mentee type of deal, and now he's just a part of the family," Alex said.
Big Brothers Big Sisters is a national organization dedicated to creating and supporting one-to-one mentoring relationships that ignite the power and promise of youth.
Andrew said he'd encourage more men to get involved because being a Big has given him some things he hasn't found anywhere else.
"There's no way to describe the emotional connection, the emotional gain that you get from a relationship like this without having experienced it," he said. "Back when she said you should do this, I never thought we'd be here four or five years later having built a relationship. I'm excited to see him grow up more, finish middle school and go to high school. You can take pride in it, too, and you can say you've made a difference in one specific person's life, and he's made a difference in ours."
And their relationship with Jesus has given Alex incredible insight she can use in her job.
"When we are out recruiting, it is children-centric, but I always tell them you are going to get more out of this than I can even explain to you," she said. "You just realize how blessed you are, and that you are making a difference in the community. You end up feeling you are getting more out of it than you are putting in."
If you'd like to find out more about being involved with Big Brothers Big Sisters of Northeast Indiana as a potential Big, volunteer or donor, call 260-456-1600 or go to bbbsnei.org.