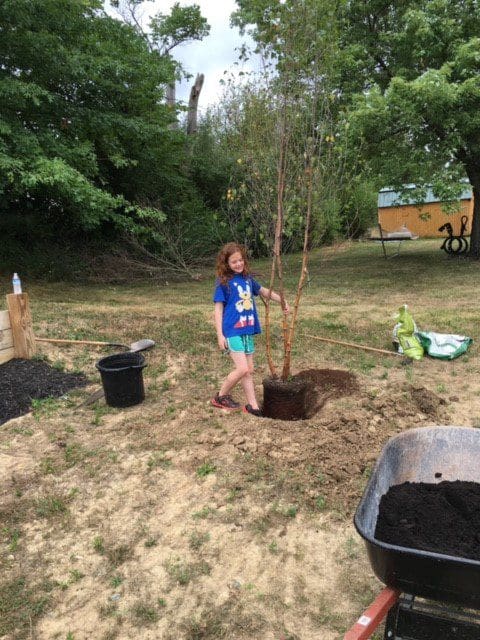 The first or second time Big Sister Sabra met Little Sister Riley, the question came up, "What's one thing you've always wanted to do but have never gotten the chance?"
Riley, who was 9 years old, said, "Plant a tree."
Hmm, Sabra, thought, I think we can make that happen.
The following summer, Big Sister Sabra Jackson and her husband Jeff were working on the landscaping in their back yard when Sabra suggested to Riley they plant that tree. They purchased a birch, dug the hole and planted the tree which was already taller than Riley.
"It's growing and she's grown, and it's something we like to say we did together," Sabra said, "watching it and us grow."
Compared to Riley now at age 15, the tree is a lot bigger, and as she said, "Like us, it keeps growing and growing, putting down those roots."
And of course, Riley needed to name the three branches of the tree as well. There's Bob, and either Johnny and Tommy or maybe Jimmy.
"I named the trees because all important things have names, and this is an important set of three trees," Riley said. "It represents the relationship between me and Sabra and one of the first things that we did. It would be wrong not to name it."
Usually, the pair loves going to the movies to see shows like the new Aladdin, Zootopia and Mr. Rogers. Then they go home and tell Jeff about it, sometimes saying the same things with perfect timing, almost as if they are twins. Jeff just shakes his head and smiles.
If they don't go to the movies, sometimes the duo go out to their tree and take a picture to show how much it, Riley and especially they have grown. Those roots are getting deeper and stronger every day.
As Riley's mom Monique said, "This was meant to be. It's been so beneficial for both of them."
If you'd like to find out more about being involved with Big Brothers Big Sisters of Northeast Indiana as a potential Big, volunteer or donor, call 260-456-1600.
---