Big Brothers Big Sisters of Northeast Indiana proudly hosted the 9th Annual BIG Celebration to benefit the Little Brothers, Little Sisters and children on the waiting list in Kosciusko County. The night featured a delicious catered dinner, a silent auction filled with fun goods and gift baskets generously donated by the community, a sparkling fashion show starring some of the Kosciusko children currently enrolled in Big Brothers Big Sisters, and moving speeches from Warsaw Big Brother Zane Hollar and his Little Brother Chris.
Matched seven years ago through the School Buddies program, Chris and his Big Brother Zane have become as close as family. Zane chose to start with the School Buddies program because it seemed like a smaller step into service – through the School Buddies program, he would meet with his Little Brother once a week at Chris' elementary school to play games and get to know each other. For Zane, who had just met the woman who would become his wife and started his career at Zimmer Biomet, this seemed like a natural first step.
"It was a way for me to enter the program without too much pressure," said Zane. "You're showing up for lunch and recess. It was a lot less intimidating."
And to Zane's delight, he and Little Brother Chris hit it off right away!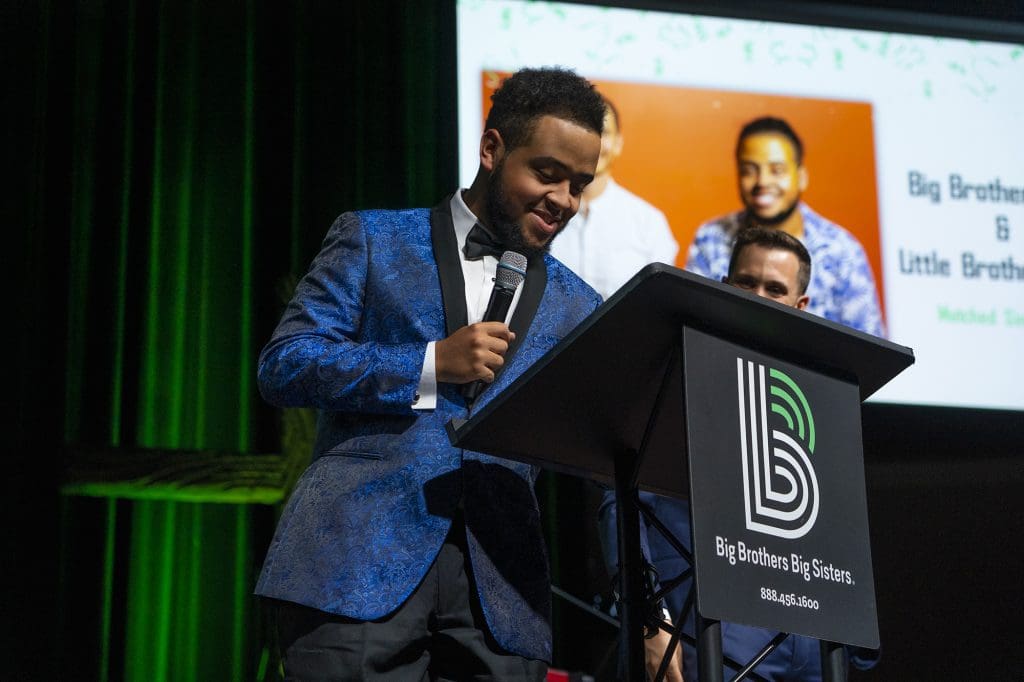 "We walked out after meeting at Washington [Elementary School] and I knew right then that I made the right choice, and that I was doing something that would have a big impact," said Zane. After two years of the School Buddies program, Zane and Chris realized their bond had grown deeper. They chose to transition into Big Brothers Big Sisters' Community-Based program, where they could see each other outside of school, for more than an hour at a time.
"The first time I came out as a Community-Based match, I was overjoyed," said Little Brother Chris. "I have friends at school but it always goes into the habit where I never really communicate with them outside of that. After school's over, I'm just kind of left by myself. Having him being there just every so often, that changes things."
Big Brother Zane knew exactly what Chris was going through. Raised by a single mother himself, Zane found a kindred spirit in Little Brother Chris, whose father was often away for work. Gradually Zane realized he could use his experience as a child to have a positive impact on his Little Brother.
"I had a father figure who was there, but wasn't there all that much," said Chris. "So Zane kind of stepped in to fill in the rest of the gap."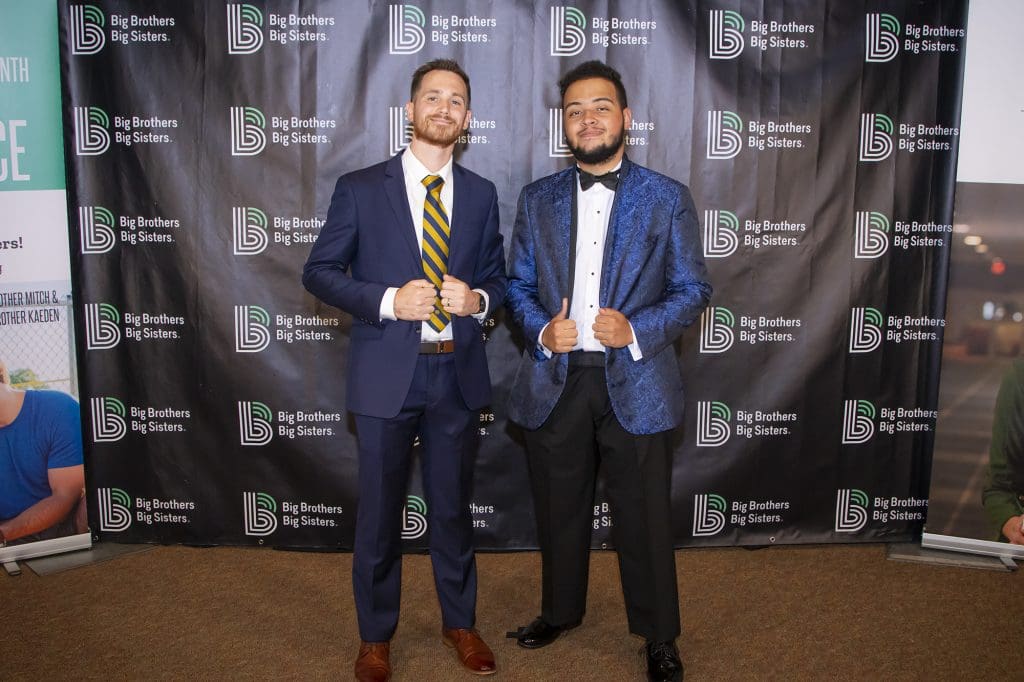 Now, Zane has fulfilled both the father role and the brother role in Chris' mind. After delivering their speeches, the two gave each other a tight hug and hit the runway for the BIG Celebration's traditional fashion show. More than 300 Warsaw community members were there to watch the show and support Big Brothers Big Sisters in its youth mentorship mission. The silent auction raised over $10,000 for Littles in Kosciusko County, with one generous anonymous donor pledging to match all donations for the night up to $20,000! In the past year, Kosciusko County has seen 38 successful new matches between Bigs and Littles, with 88 total matches in the county and 86 volunteers currently in the application process, and the county is only growing.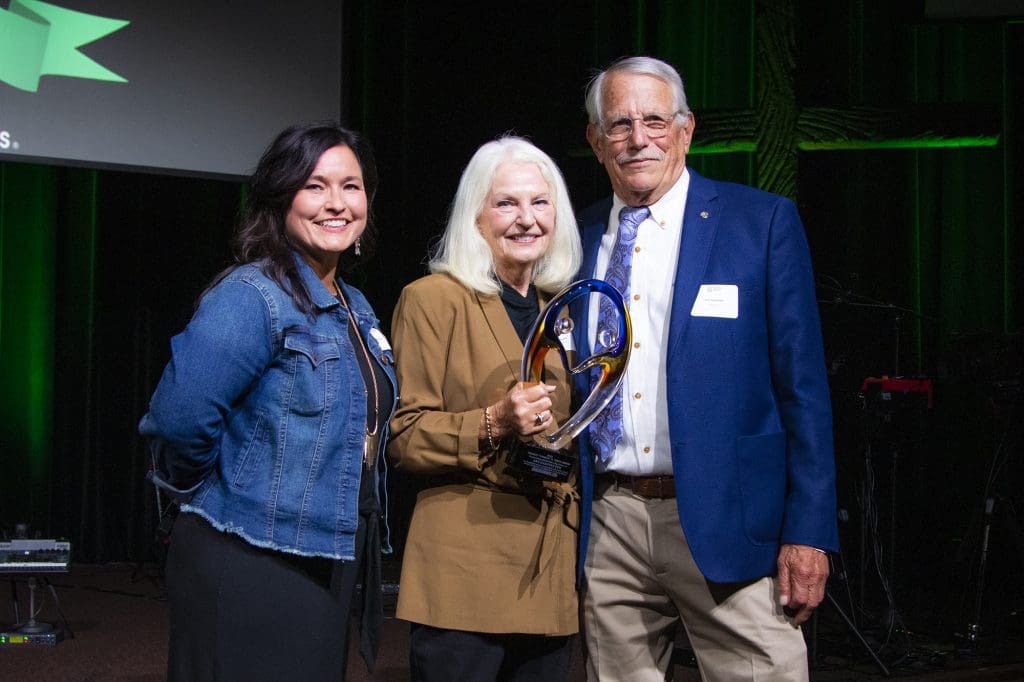 Early in the night, Art Gakstatter took the stage to receive the Charles D. Smith Award. Established in 2015, the Charles D. Smith Award recognizes an individual or individuals who demonstrate passionate volunteerism, strong community leadership and a lifelong commitment to serving others. Art's 40-year commitment to Big Brothers Big Sisters and his devotion to the community made him an obvious choice, said Big Brothers Big Sisters CEO Josette Rider.
As the night wound down, the BIG Celebration fashion show kicked into high gear. Featuring a runway full of Kosciusko Bigs and Littles in sequined dresses and crushed velvet blazers, bubbly music and flashing cameras, the fashion show ended with one Little Brother who's still on the waiting list. Little Brother Ricky is based in Kosciusko and enjoys chess, video games and kayaking. He is soft-spoken and reserved, and he has been waiting for a Big Brother or Big Sister for three years.
Could you be the Big Brother that Ricky is looking for?
Volunteer today!