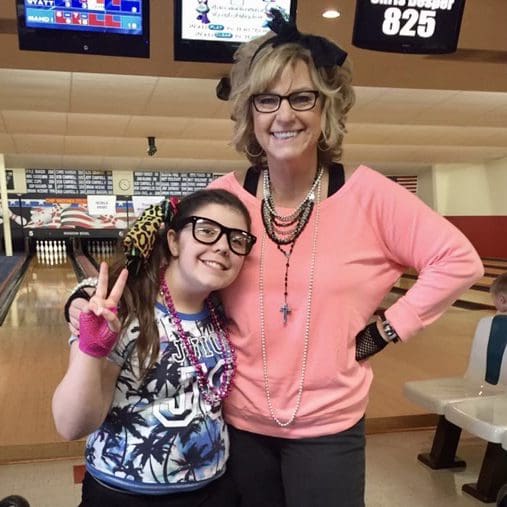 Kendallville local Natalie Axel, 57, was at the VIP Bowl as well as the Kendallville Bowl For Kids' Sake event.
Axel has been involved with Big Brothers Big Sisters for more than 15 years, starting with the Brad Miller Golf and Gala Weekends. Axel started out volunteering for one-day events, then graduated to the Lunch Buddy program, where community volunteers sit with children in need during school lunches to provide companionship and a friendly ear.
This was how Axel met her current Little Sister, who was only a second-grader at the time.
"We've become really good friends over these years," Axel said. "We like to do arts and crafts, go to the theater together, antiquing, but I would say our favorite thing to do is take a long road trip for dinner and just talk in the car and listen to music and discuss life."
Axel's Little Sister was a true introvert when they met through the Lunch Buddies program, but as she and Axel grew closer, Axel convinced her Little Sister to join the mayor's youth advisory council. Here, she flourished, becoming confident and comfortable in her own skin.
"I couldn't believe the growth and maturity she had gained," says Axel. "That was one of my shining moments with her."
Axel makes it a point to fundraise through Bowl For Kids' Sake whenever possible to ensure that little girls like her Little Sister find a mentor they can trust. There's one additional factor involved for Axel: the Kendallville bowling alley has been through a series of ups and downs. Between COVID-19 and constant closures, Bowl For Kids' Sake hasn't been present in Kendallville since 2018.
"When they approached me about bringing BFKS back to Kendallville, I was very excited to try," said Axel. "We have a new owner, so the bowling alley is up and running. In my opinion it's important to have our community involved and see firsthand the good that Big Brothers Big Sisters is doing here. I believe in giving back. I believe in our youth. I believe in the mission of Big Brothers Big Sisters."
To help raise extra money for the organization, Axel came up with the revolutionary idea to pit local law enforcement agencies against each other in a bit of friendly competition for a good cause.
"As I was trying to round up 20 teams for the Bowl For Kids' Sake event this year I was wracking my brains trying to come up with something to do," said Axel. "I started a law enforcement challenge. I have two teams from our Kendallville Police Department. I have two teams from our Noble County Sheriff's Department and two teams from Indiana State Police. They are all competing against each other."
First place (a $500 check sponsored by Axel's business) will go to whichever team raises the most money, with second place (a trophy and bragging rights) going to the team with the highest score.
"I'm really excited to shine a positive light on what our law enforcement do for this community," said Axel.
To help Natalie with her goal, visit https://ca-p2p.engagingnetworks.app/23345/2022bfks/133848/ami-kids-champ