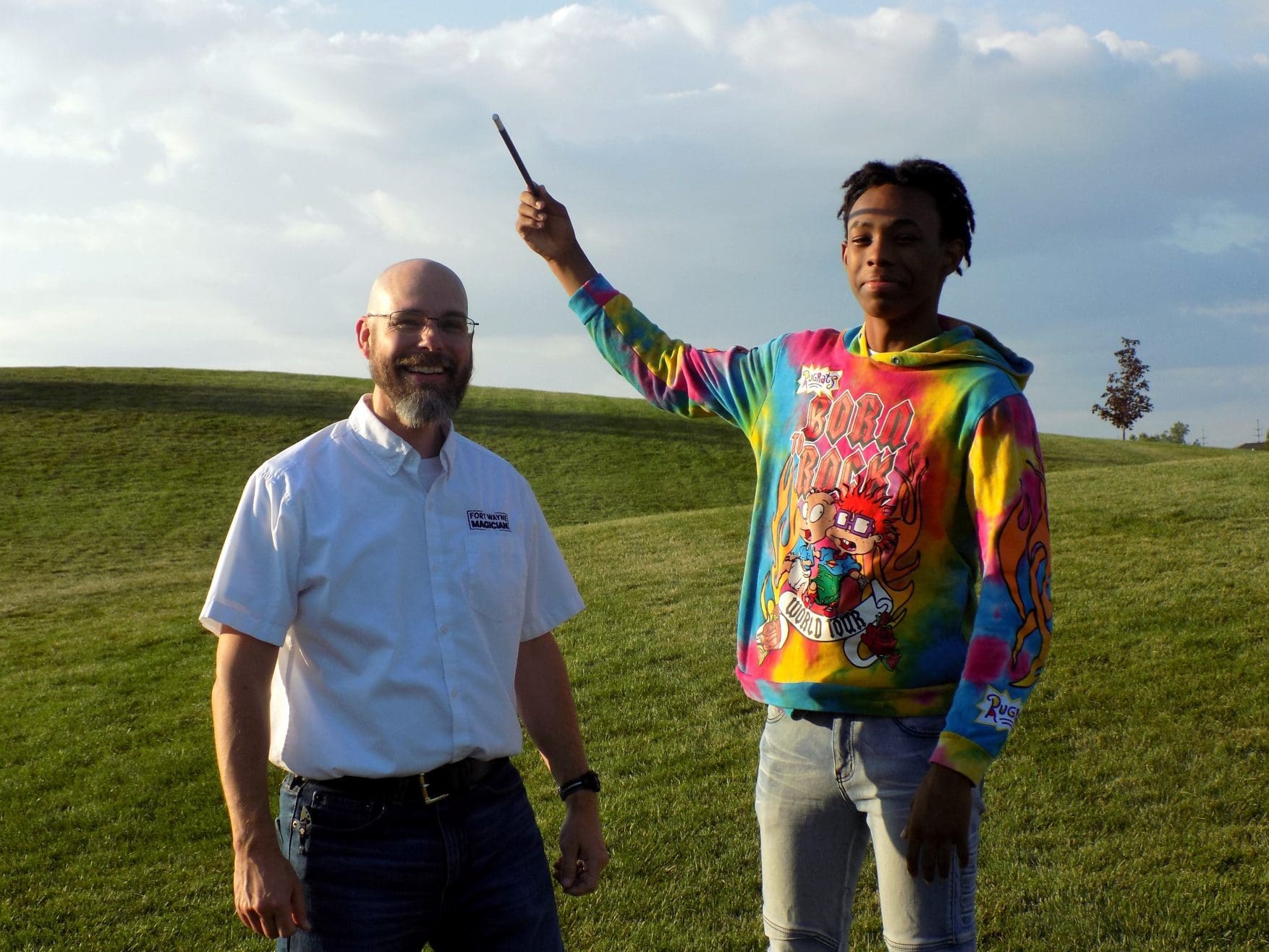 How It Began
Somehow about four years ago, a Big Brother and a Little Brother were paired who had the same first name.
"Usually, it's a big joke because we both look when someone is calling our name, we joke about it sometimes."

– Little Brother James
Actually, they joke about it quite a bit.
"We tried to come up with some cool name or something, but we could never come up with anything," Big Brother James said. "It is ironic that we're both named James. We think it's cool because it probably doesn't happen very often."
That part wasn't on purpose, but the pairing of Big Brother James Mitchell, 42, and Little Brother James, 16, certainly was. And those results have been excellent.
When we asked how James is as a Big Brother, Little Brother James said, "10 out of 10. He checks on me and makes sure I'm doing good, and I find that very heartwarming."
It's that kind of a match, and there's no trick to it, which is a bit of a pun because Big Brother James is also a professional magician. Besides working at Aptera, Mitchell has provided entertainment for corporate events, tradeshows, weddings, graduations, restaurants and birthday and private parties for more than 10 years.
"Sometimes he makes me think twice. He's good," Little Brother James said. "He knows I'm very intrigued with what he's doing."
Big Brother James is actually very good, making 100 appearances in 2019 before the Covid pandemic. He's the two-time Fort Wayne Magician of the Year. He also performed at a recent Big Brothers Big Sisters STEM event.
But he's even better at being a Big Brother. James applied to be one because he could provide a young person consistency and stability and be a positive influence.
"I think we're building foundations," Big Brother James said. "James has opened up quite a bit, so I think it's nice to see someone go from they don't know you to you are friendly to now we joke around all the time. He's super-competitive so that's a lot of fun."
"That game was purely for cheating," Little Brother James said.
Of course, Little Brother James wins on all the modern games.
"He hates it and said he's never going to play that game again," Big Brother James said with a laugh.
The competition carries over to almost everything. They love go-kart racing, miniature golf, superhero movies and eating out, and they've tried pickleball and a few other things as Big Brother James tries to provide Little Brother James with new opportunities. The best part is being available if Little Brother James needs him.
Mostly, they just love hanging out and talking.
"We've joked about girlfriends, and I can share some life experiences and we can bounce around some other stuff," Big Brother James said. "His future is probably the biggest thing we talk about. At that age, what he wants to do changes over the four years, and he's had a couple of different ideas on what he wants to do. I'm in the business world so I can speak to some of that. He's been pretty comfortable about opening up and sharing when talking about what he wants to do."
If you enjoyed this story, follow the link to read more: https://www.bbbsnei.org/category/all-stories/
Also be sure to follow us on Facebook, Twitter, and Instagram to keep up to date on all the happenings with Big Brothers Big Sisters!