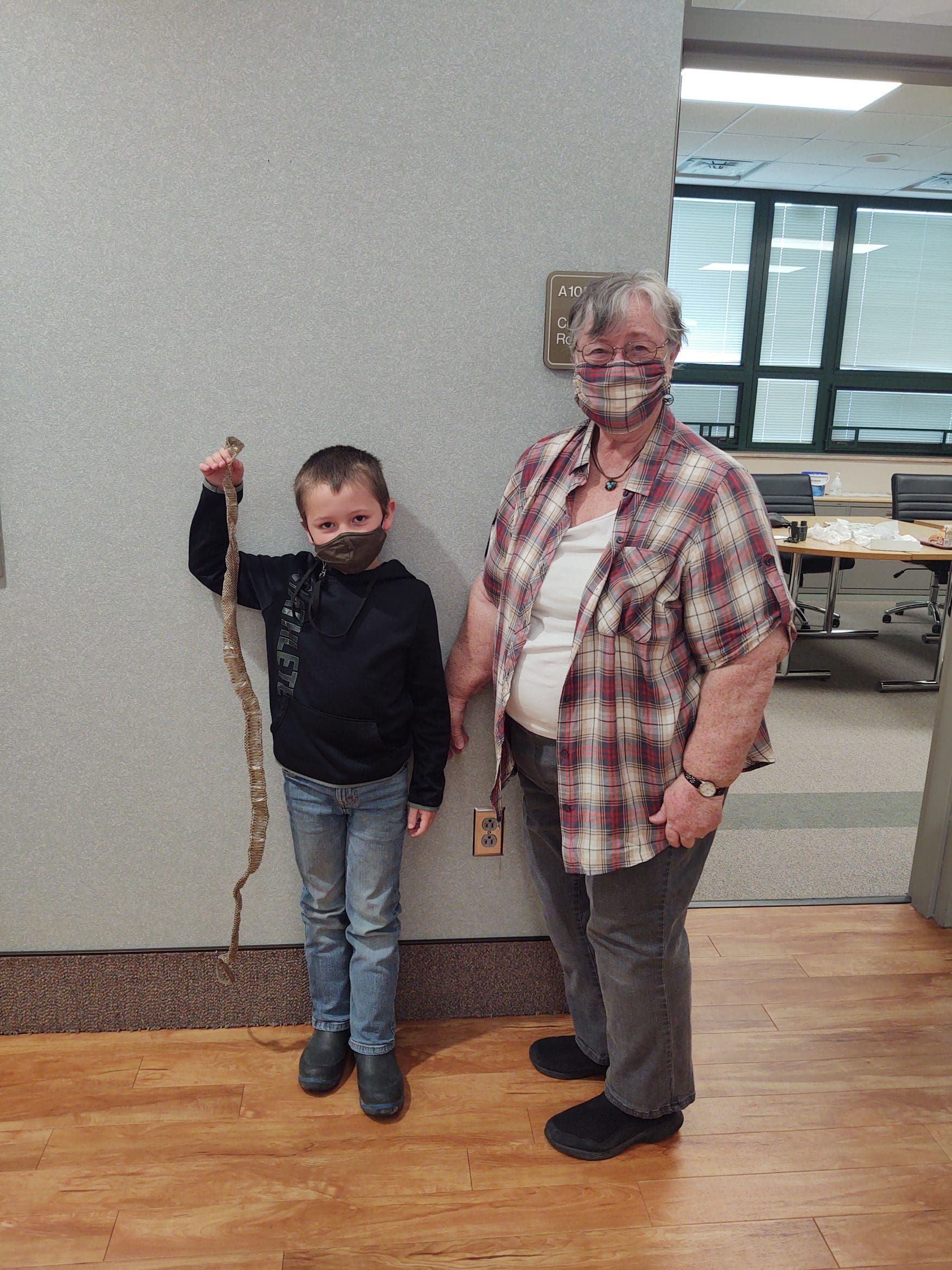 Usually, a primary goal for a Big is to help a Little come out of their shell. Linda Diehl found a perfect way to demonstrate.
Because of Covid-19, Big Sister Linda was unable to see School Buddy Kane for more than a year, even though their match had just started. They saw each other two or three times at most before school restrictions hit, but they recently reunited.
But during that off time, Linda, 74, found something in her garden she knew would excite Kane, 8, the skin of a nearly five-foot black snake.
"He hangs around here quite a bit," Linda said. "He scared my husband quite a few years ago. Working at his workbench in the pole barn, he heard something and turned around and all of a sudden he's face-to-face with a black snake hanging from the rafters."
Black snakes are non-venomous, eat rodents, lizards, birds and eggs, climb trees but mostly live in grasses, forests, marshes and buildings and grow from 3.5-feet to 7-feet long. They typically live between 10 and 15 years in the wild and shed their skin each spring after waking from hibernation.
Linda and her husband Conrad live in the country near Chain O' Lakes State Park and Albion where they have raised three children. They have 10 grandchildren and one great-grandchild but none live nearby.
That's where her interest in getting a School Buddy at Avilla Elementary started. A retired occupational therapist, she was already spending time in the schools the last few years helping kids with their reading. She's also been a professional clown for 25 years, practically an expert at making balloon animals.
"I just decided I wanted some kids around," Linda said. "There's nothing like making them smile."
After finding the snakeskin last spring, Linda decided to keep it in a box with some tissue paper. She kept it for almost an entire year before showing it to Kane recently.
"I just thought he would like it, like most boys at that age," she said. "I think we made an impression because he showed me his dimples with his smile. He wasn't afraid of it."
She also brought along a book about snakes, a folder and some binoculars.
"He definitely thought it was cool," Kane's mother Michele said. "He said it was the whole thing and he thought it was neat. We kind of live in the middle of nowhere so we run into stuff like that. I don't think he's ever seen the whole thing before. I'm honestly shocked he didn't want to take it home."
Kane's family lives on a few acres in Noble County and they have a few hogs, goats, turkeys, quails and pheasants to take care of, and Kane is also very handy helping his father build a new garage. There's also a little brother, 6, and sister, 4, to help entertain.
"I think Linda is a very good match for him," Michele said. "I think she's getting there. He's come a long way because usually, he's a man of very few words, but he's way more vocal, even at home. The more people who love my child the better."
There's no doubt that Linda loves her son, especially those dimples.
"I'm just pleasantly surprised God put me in this position," she said. "I think He knew I needed it."
If you'd like to find out more about being involved with Big Brothers Big Sisters of Northeast Indiana as a potential Big, volunteer or donor, call 260-456-1600 or go to bbbsnei.org.