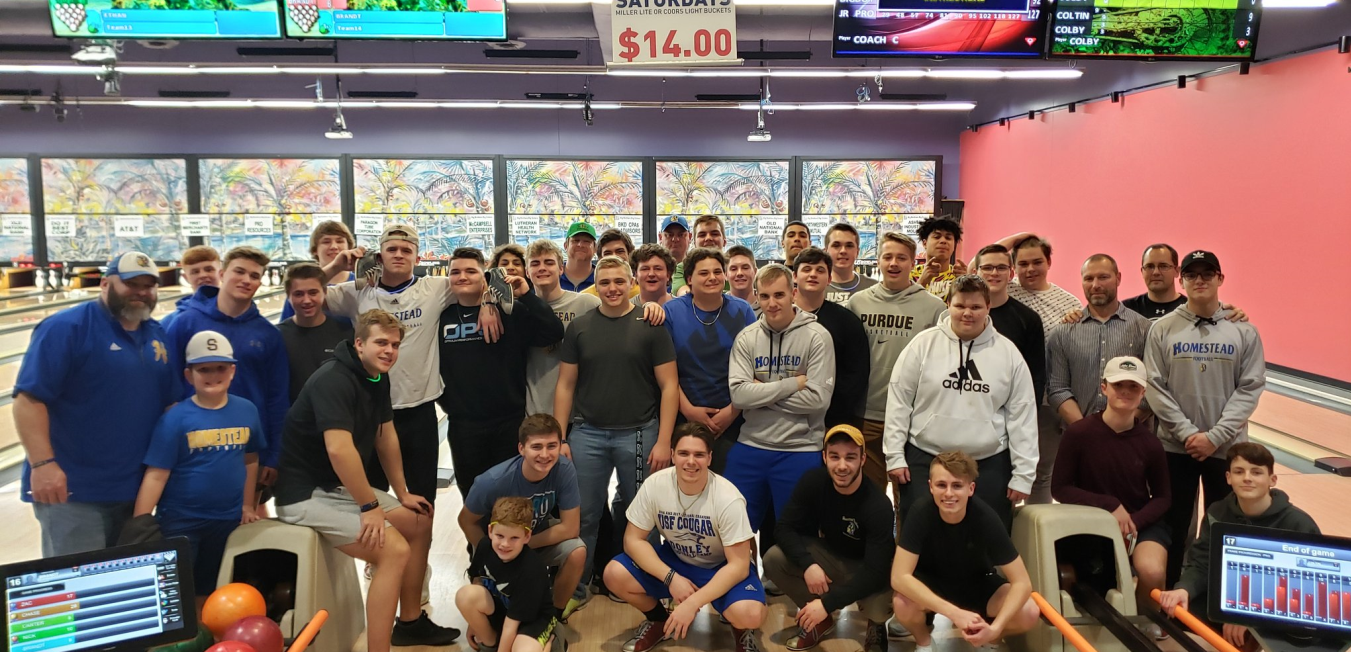 Want to see some of the biggest people in the city de-age about 10 years and turn into giggling, laughing elementary school boys on recess? The Homestead High School football team has been a big participant in the Big Brothers Big Sisters fundraiser Bowl for Kids Sake the past three times the event has been held.
The two-time defending Summit Athletic Conference champions love participating for all kinds of reasons.
"This one really hit us because it's little kids, and when they are with their Bigs, sometimes they get experiences that we take for granted," said defensive line assistant coach Ben Rogers who coordinates the team's bonding activities. "We felt that this was a good organization to support."
So four years ago, about 60 Spartans started invading Crazy Pinz for some team bonding and to raise money for BBBS. It's all part of the team's offseason bonding and public service program, which Rogers coordinates with the help of the other Homestead coaches.
That's where the laughing continues because Rogers likes to get on the public address system and make fun of everyone. Then he'll ask the participants to bowl with their opposite hand, maybe between their legs or some other goofy antics.
"Just to watch athletes try to throw a 10-pound ball with their opposite hand is kind of funny," Rogers said.
It also doesn't hurt that the offensive linemen, traditionally the biggest people on the team, often struggle with the flexibility required to be successful in bowling.
The seniors always try to stack the teams, but the rosters are random, and each senior has to have at least one freshman on this squad. It's a bonding exercise, but it's also a way to get to know each other away from the classroom, weight room or field. Rogers added to the competitiveness by purchasing about 20 1970s-style bowling trophies a few years ago to hand out, though the event is marketed as being more about having fun than actual competition.
"Everybody talks crap about the event now," Rogers said. "Now it's a heated deal because everybody wants to win, and when you compete, it brings you closer together and it's a lot more fun."
Duh, they are football players and boys and teenagers, so everything they do is competitive anyway. Plus, the only thing football players do better than compete is eat and there's free pizza and pop.
"The whole point besides doing some good and raising money for the community is bonding," Rogers said. "We try to get young guys paired up with older guys to try to mentor each other."
Hmm, that formula sure sounds awfully familiar!
Began in 1972, Big Brothers Big Sisters of Northeast Indiana is a nonprofit organization serving children in 12 counties by creating and supporting one-to-one mentoring relationships which ignite the power and promise of youth.
The 41st edition of Bowl For Kids Sake takes place in June throughout Northeast Indiana at various bowling alleys and June 19 at Parkview Field or June 22 during an online trivia night. Anyone interested in forming a team to participate in Bowl For Kids Sake can call the agency at 260-456-1600. Contestants are asked to sign up in teams of five, raising $100 per person or $500 per team through donations.