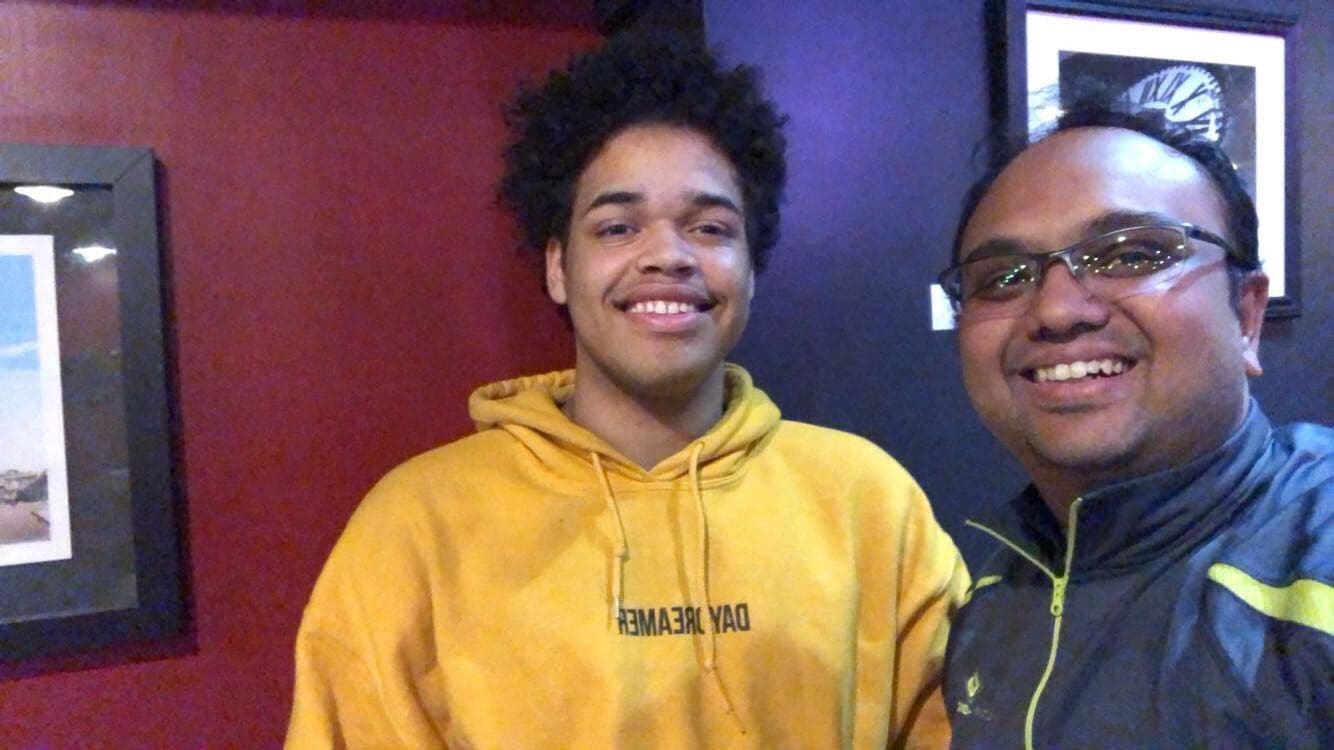 Little Brother Adrian grew up with eight brothers and sisters, so he's used to making adjustments in a hurry. A year of dealing with Covid-19 just increased his efficiency. He was supposed to study abroad in Sweden for a year, but when that got canceled due to the pandemic, he decided to graduate early from Wayne High School's New Tech Academy and enroll at Manchester University at the age of 17. He's currently majoring in educational studies with hopes of teaching English internationally.
"I grew up as part of a diverse family with different cultures which really influenced my drive to be a part of as many cultures and learn as much as possible," he said.
Part of Adrian's stability is his Big Brother Ankit Sahay who is a lead systems engineer for G6 Communications in New Haven. They've been a match for almost four years, and one of their favorite activities has allowed them to thrive during the pandemic.
"We were both into video games, so we talked about them a lot," Ankit said. "There were a lot of things where we were on the same page. Whoever set up the match did an excellent job of making sure we fit."
Ankit is part of the local group called Fort Lan, which organizes video game players into weekend competitions to raise money for charities. Sometimes between 100 and 300 players participate in an individual tournament, and Ankit and Adrian often participated together.
"That was a good way for us to bond and share our love of video games," said Adrian.
Now that Adrian's at Manchester which has limited opportunities for visitors, these tournaments have been almost like a lifeline to home, especially since he spent the summer in Georgia helping his mother with her daycare business.
Adrian may be one of the youngest students on campus, but he's proven to be a mature player by joining the school's E-Sports team which was undefeated at the time of this interview. When he's not busy studying or playing on the team, Adrian will jump online to challenge Ankit in their ongoing battle to compete for bragging rights, however, they usually play as partners.
"When we played Valorant, I was carrying him," Adrian said with a laugh. "I definitely get my bragging rights. It's a fun part of the game."
Ankit is experienced and mature enough not to take the bait. After all, Valorant is Adrian's favorite game, whereas Ankit prefers Battle Royale or first-person shooter games like Call of Duty.
"Right now, he's better at Valorant, but we'll see if it stays that way," Ankit said, this time without the laugh. "It's all in a friendly way."
They get more enjoyment out of just being able to keep in semi-regular contact with each other when so many are not able.
"I would definitely say he's influenced me to become a better person and my love of gaming too," said Adrian.
Ankit agreed, saying, "He's just smart and analyzes really well, and his skills are really good. He stays calm under pressure, which is a big thing, too. I'm excited to see where he goes," Ankit said. "I wish I was as level-headed as he is at the age of 17."
Afterall, Isn't the goal of a great match to help each other improve and find ways to enjoy life more?
If you'd like to find out more about being involved with Big Brothers Big Sisters of Northeast Indiana as a potential Big, volunteer, or donor, call 260-456-1600 or go to bbbsnei.org.