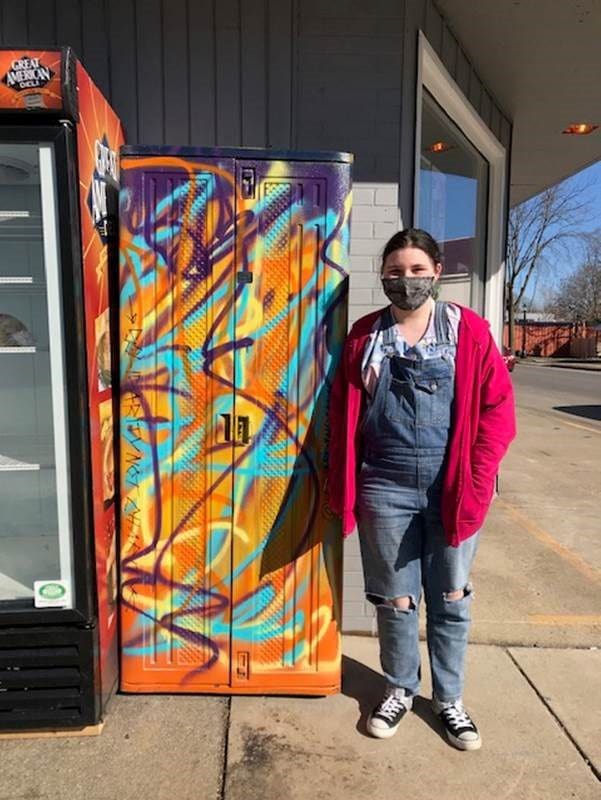 Maybe you've seen them around town, 16 and growing at last count. Maybe you've even needed to use them. After all, that's the hope of the organizers.
But have you ever wondered what the people are like who help stock the many Forward Indiana food pantries around Fort Wayne?
A Big Brothers Big Sisters pairing of a Big Sister and a Little Sister have made that goal one of their match activities. Big Sister Jen Cameron actually started helping out before she invited Little Sister Olivia to join in.
"We were giving to others," Olivia said. "I like giving to people so it was pretty good."
The 12-year-old sixth grader and Jen helped stock four of the pantries the other day. They filled in with bread, water, peanut butter and jelly, coffee, granola bars and candy canes.
"I did my shopping and organizing before I picked her up," Jen said. "We've only got a very short time because it's after school and during daylight hours. She was gung-ho and asked, `Why isn't there one close to my house?' I told her there might be someday."
Indiana Forward mainly is the project of Sarah Thompson and her boyfriend Carlos Marcano with the help of a growing list of friends like Jen. The simple mission of "Take what you need and give what you can." They started out with one pantry at 1111 Broadway outside of Fancy & Staple, and keep adding on, and what they stock is available every day, all day.
Jen became friends with Sarah and started making a loop once a week to drop off items.
"Part of that, too, is that once you visit a pantry, things get messed up so you reorganize it and you take a picture and post it on Instagram and Facebook along with a list of things the pantry needs. The stuff from the pantries goes pretty fast."
It's just a great way to serve the community and introduce Olivia to something new. They also love visiting museums, the farmers' market, thrift stores, Art Link and walking through parks. They also always seem to end a visit with ice cream.
"The reason this is important is because between the pandemic and so many people losing their jobs, we already had a hunger problem and it's been exacerbated by what's been going on over the last year," Jen said. "We (along with her husband James) have more than I need, and I'm always happy to share it with others."
If you'd like to find out more about being involved with Big Brothers Big Sisters of Northeast Indiana as a potential Big, volunteer, or donor, call 260-456-1600 or go to bbbsnei.org.