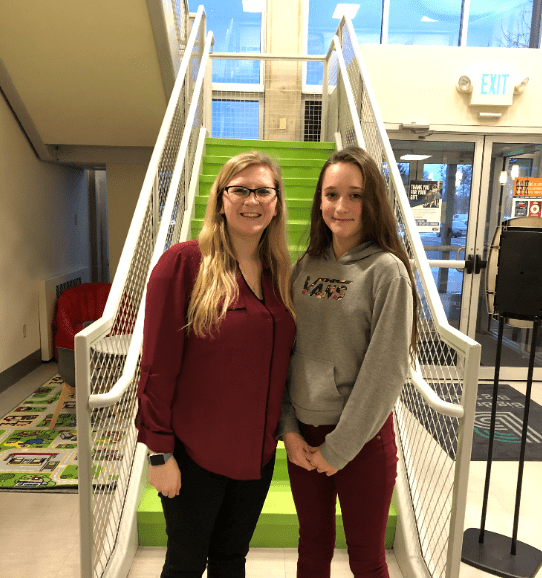 Big Sister Allison Gourley was matched with her Little Sister Maddi on Jan. 24, or just before Covid-19 shut everything down. They got to go to a Mad Ants basketball game, a STEM showcase at the Memorial Coliseum and another quick match activity before everything closed up.
Luckily, that was enough to cement their bond. That actually happened when Allison lost all control and started screaming at the Mad Ants game, which might be considered embarrassing to a young, impressionable Little. But Maddy could not let that stand and started screaming louder. It was a mess, and they almost had to be escorted from the building.
Actually, the Mad Ants rallied from a huge deficit that night to win the game. Allison and Maddi believe it's because their volume inspired the players.
And that's a great example of how their relationship works. They texted at least once a week while everything was shut down, but sometimes the texts were not what anyone would expect.
"Hey, Dork, I don't miss you."
"I don't miss you either."
Another example:
"When are we hanging out again?"
"Why, I don't like you."
Of course, Maddy went directly to her mother and said, "You won't believe what Allison just texted me."
And that was normal, at least for them! They actually chuckle over stuff like that.
"We're very sarcastic together which is my whole personality so it's pretty great," Allison said. "She's literally a miniature me. We bicker back and forth at each other and I love it."
Which is completely OK with Maddi's mother who has three boys at home and wanted another female presence in her daughter's life. She knew it would require a strong personality to match Maddy's spunk.
"It's kind of funny because they are like twins," Maddi's mother Desiree said. "It's just so crazy how they think, how their personalities are alike and how they connected the first time they met. When they were filling out the paperwork, they were laughing from the start at the same stuff."
Maddy said she immediately got into the spirit of the match, saying of Allison, "She's just pretty great. We are literally like the same person. Her personality is the same as mine."
So Maddi finally has a worthy partner in crime.
If you've been reading along and noticed references to Maddi or Maddy, that's on purpose and an example of her personality. Desiree named her Maddi at birth, but her daughter prefers to be known as Maddy and is constantly sneaking the "Y" onto her name on sports rosters, jerseys and in school programs. Yep, she's a pistol!
"I told her I gave birth to her so it should always be with an `I'" Desiree said. "But if it's her jersey, she has to wear it, and she's pretty sneaky about it."
Her strong-willed daughter obviously doesn't listen very well.
"She just kind of gives me a lecture about it," Maddy said with a giggle.
She's actually very respectful to her mother, usually, but always sassy!
Madelynn is actually something of a budding basketball prodigy, playing part-time on the Lakewood Park Christian varsity this season as a freshman. She's also been invited to play on an Always 100 travel team. Desiree is trying to work on the funding, and Maddy recently started a gofund.me page at shorturl.at/atw59.
With her attitude she's a point guard, of course, always telling teammates where they are supposed to be and doing.
"Its something that gives me a rush when I play, a lot of excitement," Maddy said. "It's always exciting because you get to have that leadership position and experience what it's like to be in charge of something."
Allison can't wait for the games to start this summer because she'll finally be able to attend some in person. Before, she had to wait for the texts from Maddi, and who knows what those might include, sometimes anything except what actually happened during the game.
All we know is Maddi better play well or she'll probably hear about it from her Big Sister sitting in the stands.
If you'd like to find out more about being involved with Big Brothers Big Sisters of Northeast Indiana as a potential Big, volunteer or donor, call 260-456-1600 or go to bbbsnei.org.