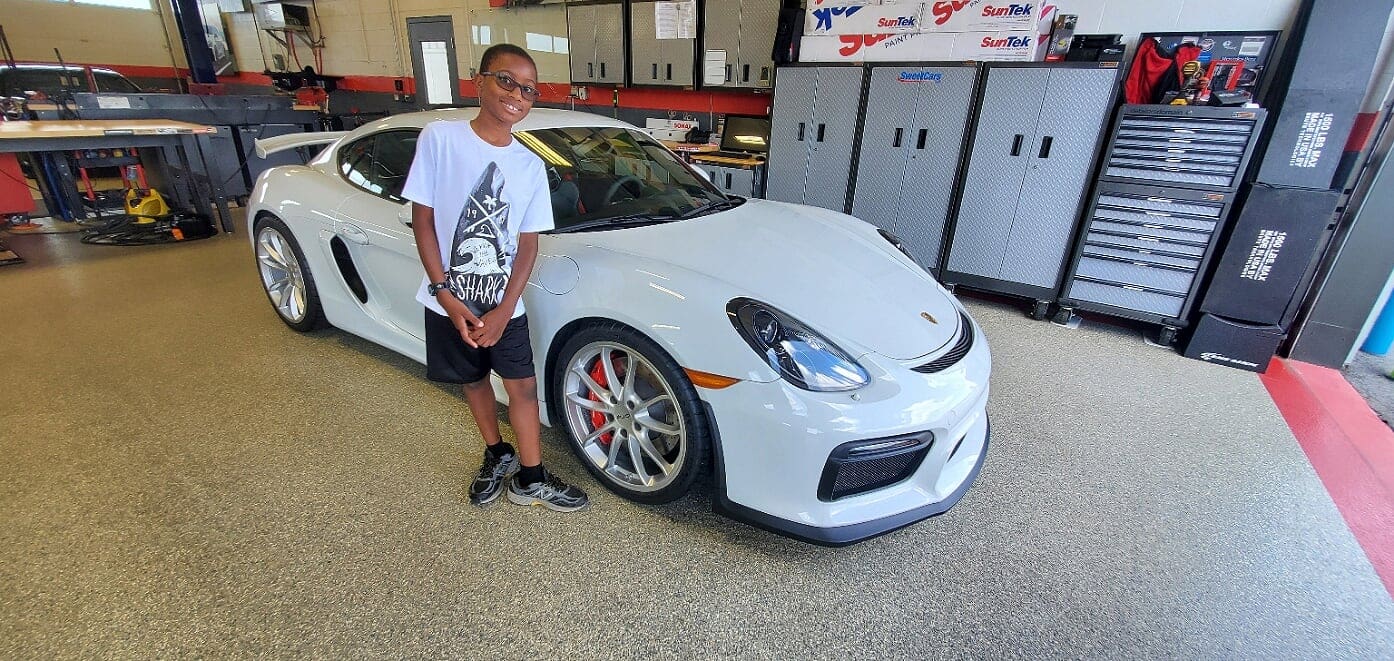 Little Brother Rovenio, 11, loves Legos so much it drives his mother crazy, especially when she's trying not to step on them.
But somehow, Big Brothers Big Sisters found someone just as nuts about Legos to match with Rovenio.
"They are both unique and funny," Rovenio's mother Veronica said with a laugh. "How'd you guys find the perfect match for my son? Sometimes it's like they really are brothers."
Except Big Brother Nathan Moore feels like he's the lucky one with the match. After raising 21-year-old twins, a boy and a girl, he had a pretty good understanding on how to connect to a boy.
"She's not a guy," Nathan said simply. "I remember being a guy and raising a girl by yourself. It's just different. You're not going to relate to her the way a female would."
Nathan and Rovenio were an immediate hit, often spending time watching YouTube to see the latest Lego designs and then trying them out, especially Street Sweepers which are Rovenio's favorite and he uses in his Lego city. And they are also both "car" guys.
They've been matched for almost two years.
"He's everything you want in a Big Brother," Veronica said. "He's a positive influence, and he's there sometimes when I don't even realize in that he's like a Big Brother to me, giving me a lot of insight."
She's trying to raise Rovenio and his sister to have more opportunities than she's had in life.
"I've pushed him to be the complete opposite of me," she said. "The only way to change what we are doing is for you to do better than I ever did. You're going to be smarter than me and have more than me one day. I want them to dream big and want a lot. I try to be as open and as honest with them as possible. If I sugarcoat life for them, then it will be a big surprise for them. I want them to be aware."
And that's why she really reached out for a Big Brother. She wanted another guiding, steady presence, another voice to reinforce things with Rovenio.
"He's funny and he's helpful and we both like the same things like Legos," Rovenio said. "He's pretty cool, too. He's really awesome."
In particular, Nathan showed that awesomeness at the end of the first semester when Rovenio fell behind in a few classes. A two-week mom-inspired boot camp got him caught up in most classes, but there were a ton of missing science assignments.
An architect at CME Corporation, Nathan picked up Rovenio for what turned out to be a middle school version of an all-nighter. They went to Nathan's office where there was room and materials and knocked out all the assignments.
"We just kind of worked through his homework and blasted through everything in one night," Nathan said. "It was a long night, but he got everything turned in."
The late-night ride home included some encouragement to keep up on his assignments in the second semester.
"Do you think you want to do this again?" Nathan asked and received a negative response. "Good, because I'm tired, too."
Since then, Nathan has joined mom in keeping a closer eye on Rovenio's progress.
"He was very proud of his grades, and he deserved to be," Nathan said. "He's figuring it out and comprehending the importance of being at it on a regular basis. This is finally landing with him."
But Rovenio also knows Nathan will always be there to help if needed.
"I feel like Nathan doesn't let him off the hook, he holds him accountable," Veronica said. "He also offers himself, and that means the world to both of us."
If you'd like to find out more about being involved with Big Brothers Big Sisters of Northeast Indiana as a potential Big, volunteer or donor, call 260-456-1600 or go to bbbsnei.org.