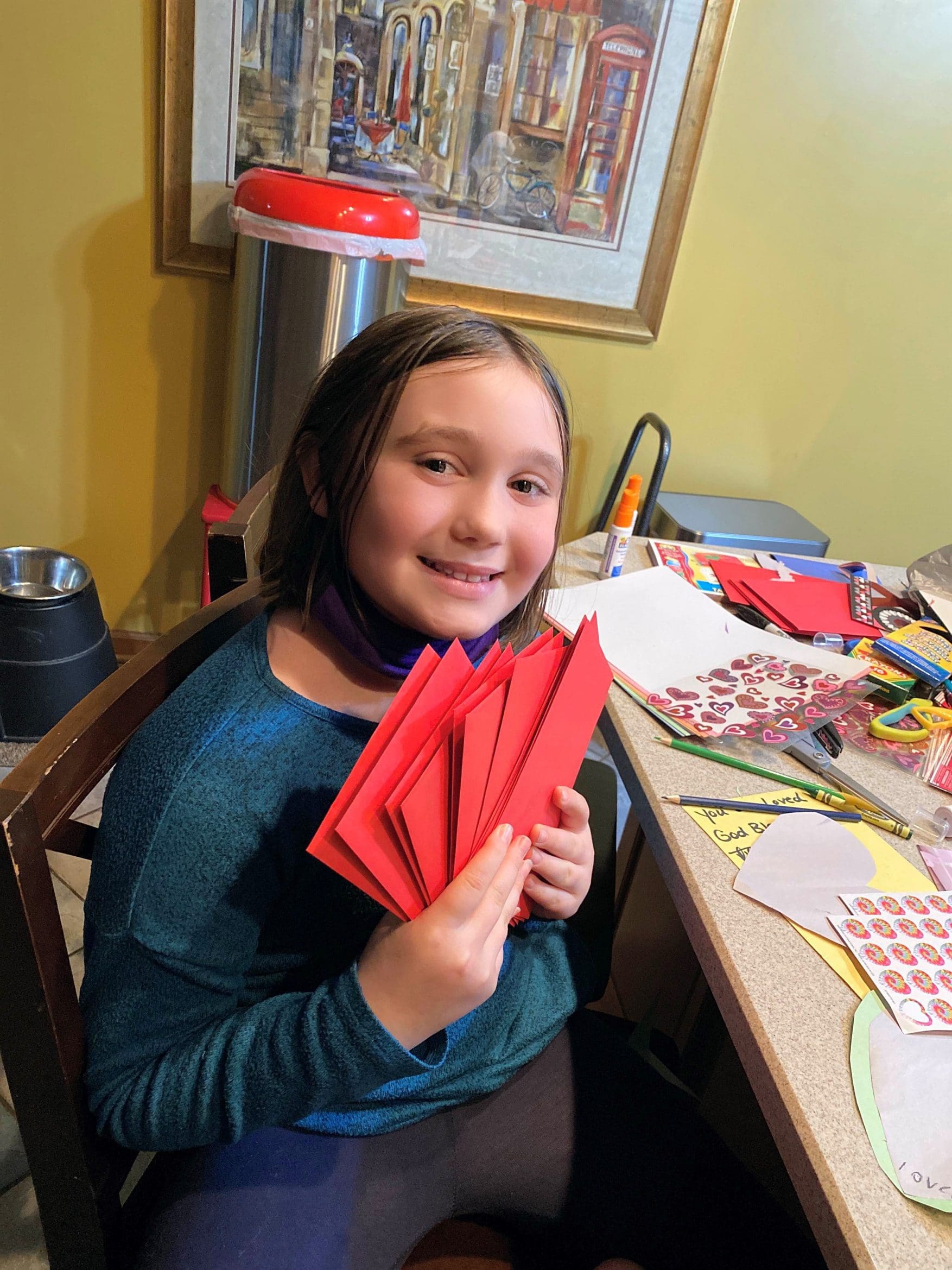 The first thing to understand about Little Sister Kenzie and Big Sister Lora Acker is that they both contracted the Covid-19 virus sometime in the fall and fought hard to overcome it. That gives them a little real-life perspective on their next adventure.
When they were finally able to reconnect, Acker and Kenzie, 9, were just driving around talking about things when Acker mentioned she couldn't wait to be able to see her grandparents again. They are in their 90s, and she's been staying away for their protection.
"We were talking about that and different aspects," Acker said. "We had this big conversation about it, and I was trying to think of something fun to do. We decided to adopt a whole nursing home and send them Valentine's Day cards."
Lora purchased materials and they spent six hours making handmade cards for 50.
"We cut out hearts and glued them on card stock and then decorated them with stickers and wrote a message on each of them," she said. "She decorated all of them with stickers and coloring and glitter. We just went all out."
The glitter is especially appropriate because when Acker first met Kenzie a year-and-a-half ago, the first grader was wearing bright red glitter shoes, causing Acker to say, "That's my girl!" They've been a tight pair ever since.
"I wish we could go out and have more experiences, but I enjoy being with Lora and spending time one-on-one with her," Kenzie said. "Having this safe, loving outlet has helped me."
Kenzie is the third Little Sister for Lora who has been a Big Sister for 17 years. She's owned Personal Care Medical Supplies for 22 years and has grandchildren who are Kenzie's age.
"She reminds me so much of me at it's just scary," Acker said. "She is like a little me."
Oh, there's more to it than that. When they first started meeting, though she didn't care for it herself, Lora purchased pizza figuring Kenzie would surely like it. Then she noticed Kenzie wasn't eating it, either.
"Do you like it?" Lora asked.
"I thought you liked it," Kenzie replied.
"No, I thought you liked it!"
They have bonded over crafts, especially the Valentine's Day cards which were donated to Miller's Merry Manner in Garrett. That's where Lora's niece Lindsey Floyd is an administrator and she couldn't wait to pass out the cards to the residents.
"It's always such a joy to see their faces, and it means so much to them," Floyd said. "Their reactions to it… just to know that somebody out there is thinking of them. It's been a tough 10 months with Covid and none of my residents have been able to touch or hug any of their loved ones. We have to do what we must to protect each other, but cards like this little girl made will make their days."
Lora and Kenzie aren't done, either. They are working on Valentine's Day cards for the staff and thinking about what to do for St. Patrick's Day.
"I'm hoping that we can kind of adopt them through the pandemic and do some other stuff," Lora said.
If you'd like to find out more about being involved with Big Brothers Big Sisters of Northeast Indiana as a potential Big, volunteer or donor, call 260-456-1600 or go to bbbsnei.org.