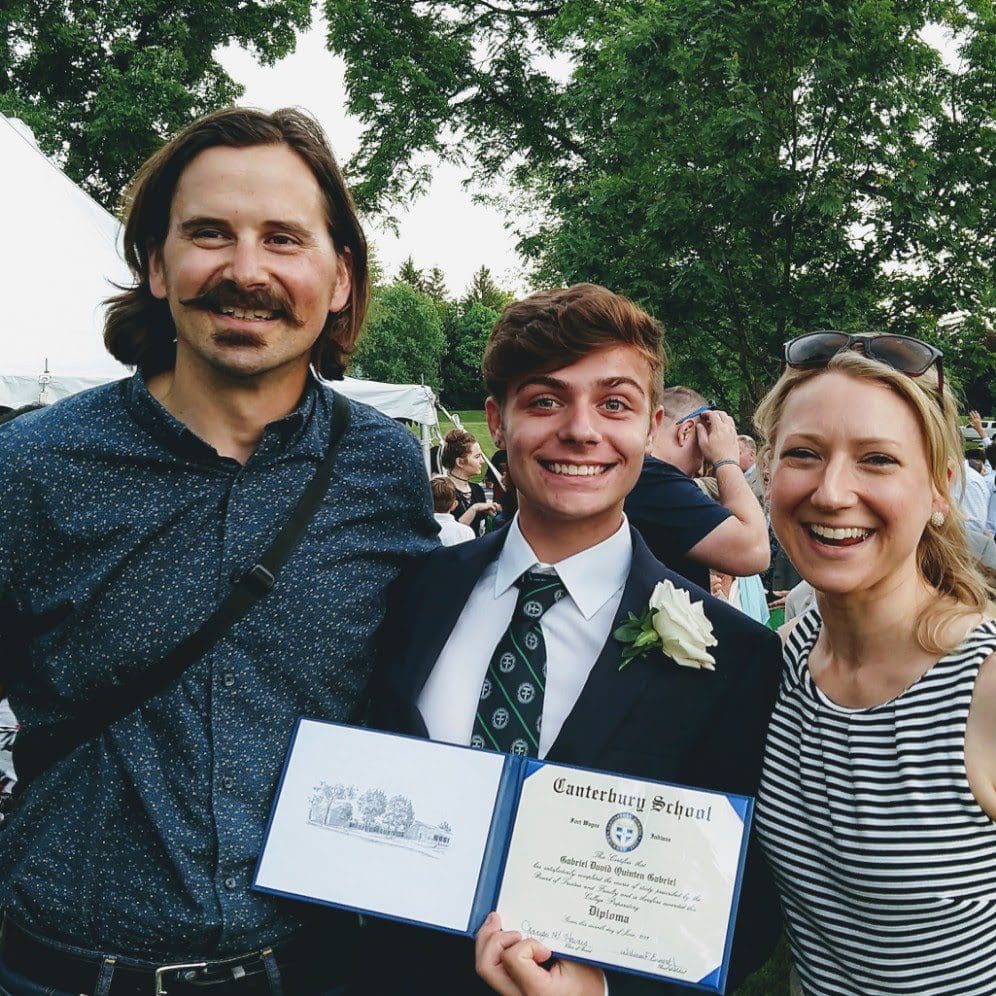 A couple of years ago, Little Brother Gabe described his Big Brother Vince's impact by saying, "He has become my flashlight, a dependable bright light and always ready to help illuminate my footsteps to make sure that I don't fall…"
Fast-forward and Gabe, a Canterbury graduate, is now studying international relations at Indiana University, and he recently used his experiences as a Little Brother to shine a light on mentoring issues. As part of the Indiana Youth Institute's "Capital Hill Day," Gabe shared a portion of his story with Indiana Senators Todd Young and Mike Braun.
"I grew up poor, below the poverty line. A close family member was addicted to basically everything under the sun, and my father was absent. With that came a changing cast of characters in my life and a very unstable home.
"I did have two people, however, who were my mentors, Vince and Rachel Serrani who became my Big Couple through Big Brothers Big Sisters. They were just always that positive force… whenever I would be going off the rails, they'd straighten me out. I really couldn't quantify their role in my life, but if I could put it any way, I'd say it like this – I had two friends growing up: Currently, one's in jail and the other's dead. So, to say Vince and Rachel were life savers wouId not be in any way an overstatement."
Because there were others waiting to speak to the Senators, Gabe, 19, spoke for only about two minutes, but his message was powerful. The point of the online gathering was to push for six pieces of legislation being considered in Washington. Gabe was asking for funding for mentoring and the Foster Youth Mentoring Act which would establish and expand the operation of programs using a network of public and private community entities to provide mentoring for children in foster care.
"I'm a foster kid," Gabe said a few days later. "I've seen kids in the system, and I've been through it and if that's one of the six pieces and I figured my story lines up so I better speak about something I'm passionate about."
So, he made his case by using himself as the example.
"After moving into foster care, I had serious doubts about college, and Vince definitely was the one person who got me to actually enroll. With regards to that, people with mentors are 55 percent more likely to be enrolled in college. I am eternally grateful for all these advocates who helped me achieve that.
"Especially with COVID, some kids are still stuck in these negative households and environments and just need that one person."
Gabe said he's currently considering a career as a political analyst at the CIA or eventually as a diplomat. This isn't the first time he's spoken about his experiences as a part of Big Brothers Big Sisters, but it might end of being one of the most important.
"I was just glad to be able to pay it forward," he said. "Now seeing so many people go into the mentoring program and the fight for funding among all these advocates, I didn't realize how much went into building my relationship with Vince right off the bat. Now that I understand that, it was my honor to be able to help push that into the future."
If you'd like to find out more about being involved with Big Brothers Big Sisters of Northeast Indiana as a potential Big, volunteer or donor, call 260-456-1600 or go to bbbsnei.org.