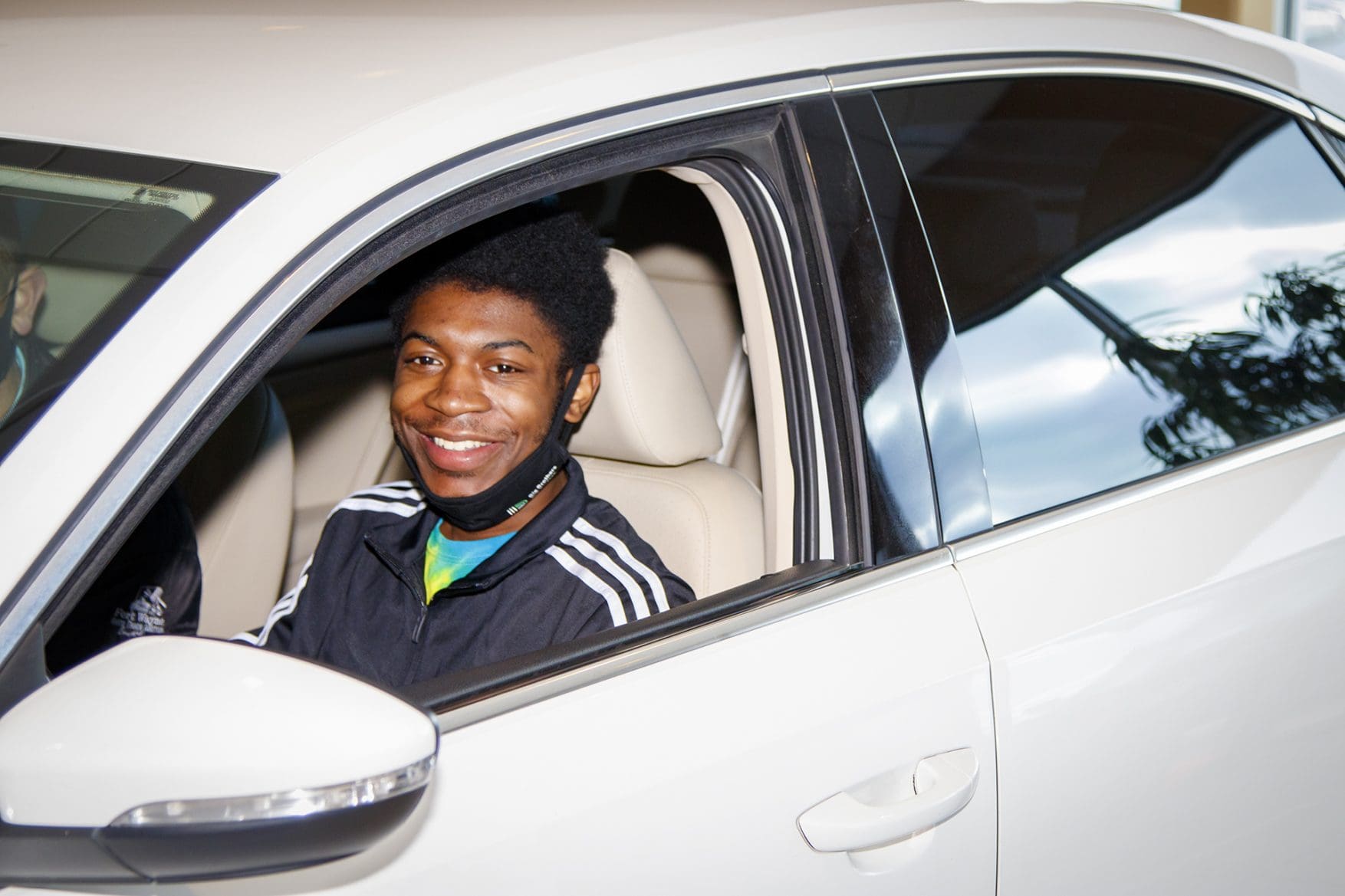 If there had been a little more time, Little Brother ZaMarquis probably would have hugged and thanked everyone working at Tom Kelley Buick GMC, but he had another responsibility.
"I'm going straight to work," the 17-year-old said on Dec. 14 after receiving a car though the efforts of Big Brothers Big Sisters of Northeast Indiana Chief Executive Officer Josette Rider and Tom Kelley, President of Tom Kelley Buick GMC. And with the help of countless donors.
A few months ago, ZaMarquis saved up his own money to buy a vehicle at a local used car store. He'd saved his money while working 40-plus hours a week at Hardee's to support his family along with finishing his senior year at South Side High School. Unfortunately, the car broke down almost immediately.
Rider heard about the situation, and she contacted Kelley. ZaMarquis has been part of Big Brothers Big Sisters for almost nine years.
"I didn't know what to do because I don't know anything about cars, so I called Tom," she said. "He said don't worry about it, call my guys and have them look at it and figure it out."
The car was a total loss, but Rider and Kelley started planning. Rider started a GoFundMe page with a goal of raising $8,000, and Kelley put the word out among his associates to find a reliable car. Kelley associates Craig Rider and Trent Weybright took the lead.
Kim Martin, General Manager of the Kelley Auto Group in Decatur, found a white 2012 Volkswagen Passat with 150,000 miles.
"We ran it through our service center and did a complete inspection on the vehicle like we do on every one that leaves our lot," Martin said. "It's good to go."
The vehicle was presented to ZaMarquis at Kelley Buick GMC, 633 Avenue of Autos.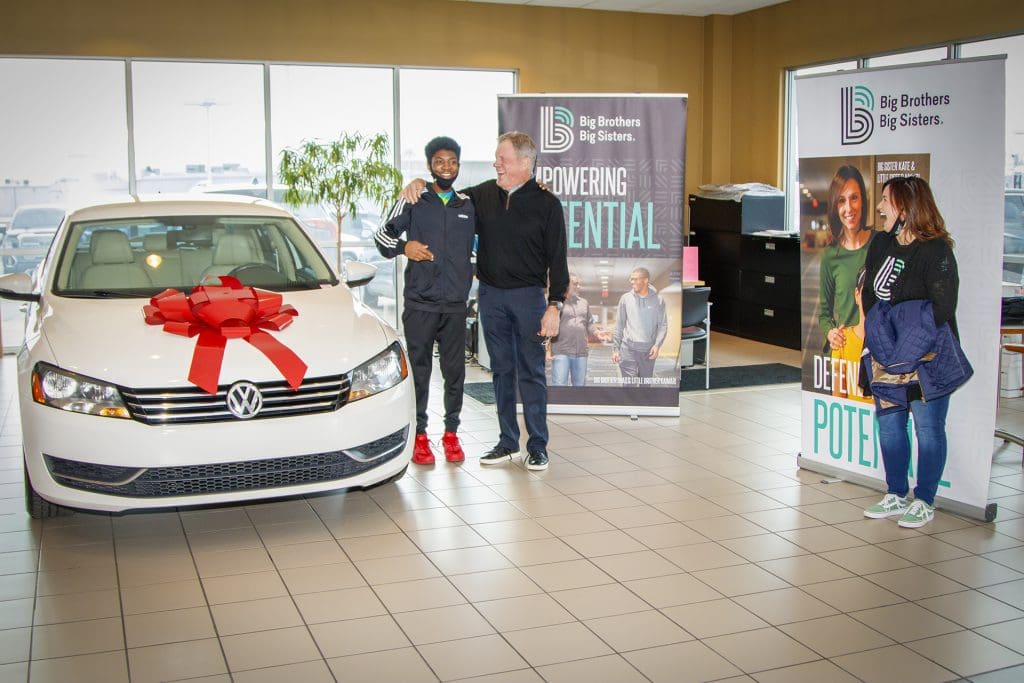 "I've known Josette for 25 years, and my dad was one of the original supporters for Big Brothers Big Sisters," Kelley said. "Don Wolf (local BBBS founder) was his dear, dear friend. This was just the right thing to do. This young man has been working very hard under tough circumstances. I wish we could help everybody who is in that situation, but we have to do it one at a time. So this is mainly to support him and reward him persevering through some tough circumstances and staying the course.
"As my dad used to say, everybody needs a little help sometimes in life," Kelley said to ZaMarquis. "This is just a way to show that people believe in you, they will help you and you will be successful in life."
After graduation this spring, ZaMarquis is planning on attending a local college to study either computer engineering or criminal justice.
"Now that I have reliable transportation, this will make my life a lot easier and allow me to go to school, get to work and take the next step," he said. "There are a lot of things that are possible coming through this program. I came a long way and it helped me a lot to increase my personality in general. It gets you moving, and it's a good place to start."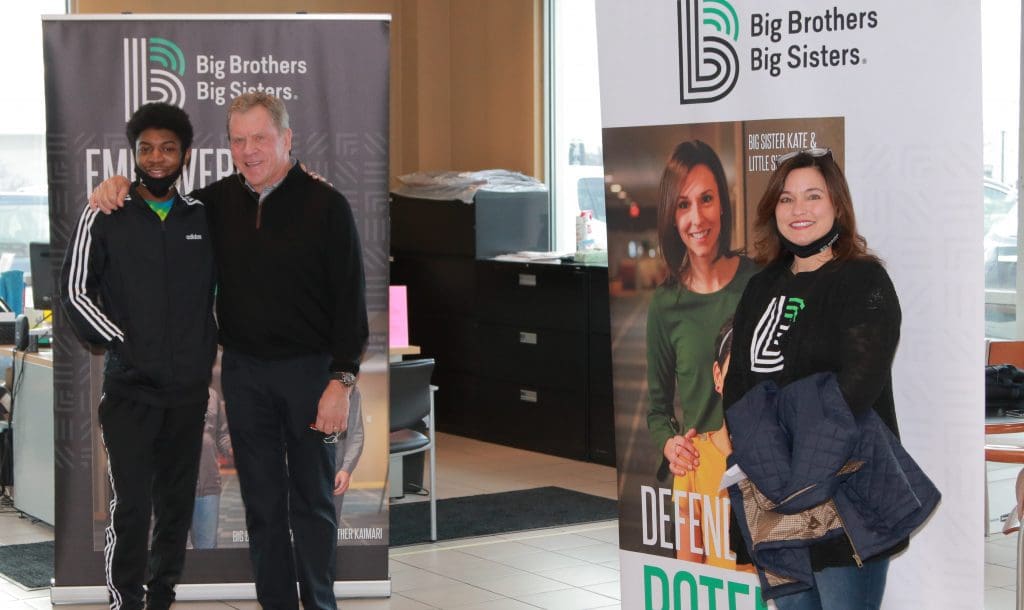 Big Brothers Big Sisters of Northeast Indiana is a nonprofit organization that serves children in Adams, Allen, DeKalb, Huntington, Kosciusko, LaGrange, Noble, Steuben, Wells and Whitley counties in Indiana and Branch and Hillsdale in Michigan. The organization's mission is to create and support one-to-one mentoring relationships that ignite the power and promise of youth. To learn how you can positively impact a child's life, donate or volunteer, go online at BBBSNEI.org or call 260-456-1600.
If you're looking to make an impact in your community, consider donating or even becoming a volunteer with Big Brothers Big Sisters. To learn more about the programs at Big Brothers Big Sisters, click here.