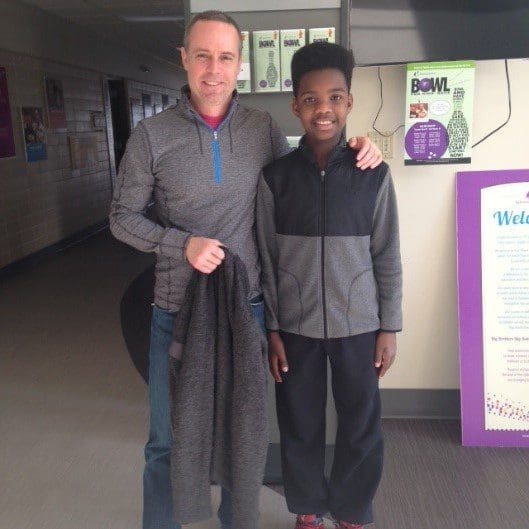 Little Brother DJ and Big Brother John
"My Big Brother John is always there for me." – Little Brother DJ
From a young age, DJ always had a lot of spunk and high ambitions with energy to match. She hoped that the program would expose him to new cultures, perspectives, and activities along with a strong male role-model.
When DJ was matched with John in 2014, he found just that. John, an advertiser, and father himself, first got involved with Big Brothers Big Sisters as an opportunity for him to give back. When the two first met, they instantly clicked. They bonded over their shared love of the New York Knicks.
With John's encouragement, DJ now plays basketball during the summers for the Amateur Athletic Union. For the past few years, John and Big Brothers Big Sisters have collaborated to help raise funds for DJ to play. Now in high school, DJ also plays on his school's basketball team and has played for both the Junior Varsity and Varsity teams. Over the years, DJ's passion for basketball has never waned – nor has his friendship with John.
Due to DJ's very busy basketball schedule, John and DJ often struggle to get together frequently. The pair have endured difficult patches and have repeatedly found a new rhythm to keep the relationship a natural fit for different seasons of life. Sometimes, they plan outings far in advance, and other times they take advantage of last-minute opportunities to get together. Throughout these seasons and DJ's transition into a new school, new house, and new team, John has stayed by his side. When DJ's basketball season gets in full swing, John stays connected with him by attending some games and cheering him on.
As DJ has gotten older, John has continued to be his role model and has been a key guide in helping him make important life decisions while holding him accountable for his academics. Through his influence, DJ has developed deeper interpersonal skills and continued to excel academically. John remarked that "DJ is becoming more mature, and more independent." When DJ hit a rough patch earlier this year, John stayed by his side and had difficult but important conversations with him on learning from past mistakes and not letting them define his future.
This fall, DJ hopes to begin a special track to learn more about radio broadcasting. John will be right next to him because "I always want to remind DJ that he's a bright kid with a bright future."
---
Are you interested in becoming a Defender of Potential like Big Brother John? Click on the links below to get involved with Big Brothers Big Sisters today!