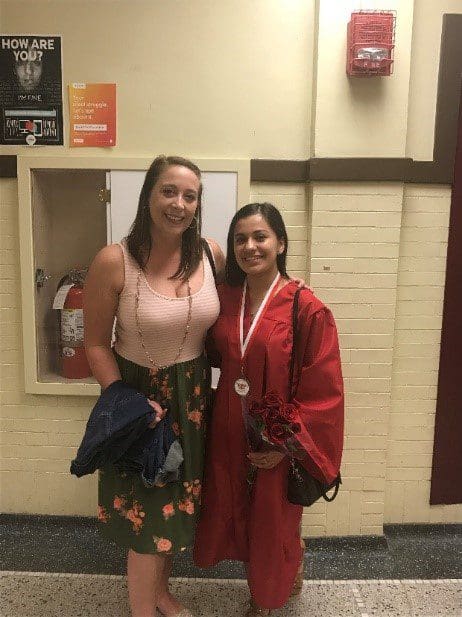 Little Sister Frida & Big Sister Abbie
---
"I feel like Frida and I have become a family." – Big Sister Abbie
---
The daughter of Mexican immigrants, Frida grew up in a primarily Spanish-speaking home. She learned English from an afterschool ESL program but the language difficulties still made school hard and friendships challenging as Frida had to work hard to become fluent in English. Frida's parents signed her up with Big Brothers Big Sisters to find someone to guide, motivate, and encourage Frida as well as to help her develop strong English literacy skills. Frida found her match in 2008.
At first, the pair spent many outings together outdoors, often going to the park or taking walks. Abbie spent a lot of time encouraging Frida in her English abilities and, in response, Frida began to open up to Abbie, showing her talkative and chatty side. According to Abbie, "Frida and I hit it off instantly. We managed to build a very strong bond in just a few months." Frida felt very similarly, she said, "I really like Abbie and our friendship. We get along really well, and we have things in common."
When Frida reached middle school, she struggled with normal teenage issues like learning to deal with peer pressure. During this time, Abbie had many difficult but important conversations with Frida, "I've been talking to her about falling back on her faith and values. I think that Frida is real smart and mature. I've taught her how to be responsible and how to make positive choices. I always tell Frida, 'is this choice a positive choice that will help you or negative choice that will hurt you?' I also tell her to remember that the choices you make now might affect you later in life."
With continued encouragement, Frida began to implement these lessons and developed a renewed investment in her education, making it her first priority. Frida remarked that "Abbie is very kind and she listens to me if I need to talk to someone. She has helped me be a good person and encouraged me in school."
As Frida entered high school, she encountered classes more difficult and rigorous than before. Throughout this, Abbie continued to encourage Frida, help her whenever possible, and provide her a quiet place to study. According to Frida, "Abbie is amazing and helps me with any questions that I
have. She is my biggest supporter. I am so thankful that she is always there to help me with homework. She knows that I get stressed out easily, and she's always willing to do anything she can to help me."
Beyond getting together for homework, Abbie and Frida continued to spend time just hanging out together and their friendship only continued to grow. Throughout high school, Abbie encouraged Frida to continue dreaming big and setting goals for her future. In 2017, Frida graduated from high school with fantastic grades. Frida said, "It involved a lot of stress and hard work, but I'm very proud of myself for pulling it out!"
In the fall of 2018, Frida began college at Ivy Tech in their nursing program. Throughout the transition to college, Frida and Abbie continued to get together. As Abbie said, "I enjoy helping Frida out. I just want to see her succeed."
This past spring, Frida decided to take a semester off and work full time to save up before returning to classes during the summer. While she's still in the nursing program, Frida is currently considering other majors more related to children, whom she discovered she loves working with thanks to a job at the library. This summer, Frida plans to take her general courses and decide her specific direction in the fall. The whole time, Abbie has supported Frida and encouraged her to follow her passions and not worry about the rest, constantly encouraging Frida never to give up her dreams.
Some Accomplishments…
Having been matched for over 12 years, Frida and Abbie are the perfect match. When Abbie adopted a child from China, Frida was so excited to become a Big Sister herself, even if unofficial. Frida said, "I have loved getting to know Abbie's newly adopted baby. Things are even better with Abbie than ever. We have such a strong bond, and Abbie's new baby has made it even better. I love that I get to be a part of the new baby's life, and see them grow up."
The bond that Frida and Abbie have developed is truly incredible. They have helped each other thrive. Although they have graduated from the Big Brothers Big Sisters program, they still keep in constant contact. Both Abbie and Frida knew they would continue their friendship forever without needing further support from the agency.
According to Abbie, "Frida is like my real little sister. She has become more open and is developing into a great young lady… we always have a great time together. We have a great friendship and I love the relationship we have created."
Frida cannot speak highly enough of Abbie and the influence Abbie has had on her life. She said, "I just love Abbie. She is awesome! I love how kindhearted she is. Everything is great with Abbie; I feel like we will always be extremely close. She feels more like family now, more like a sister than a friend. Because of such a close bond, hanging out is something we both make a priority. I feel like we will always make time for each other. I don't know where I would be if Abbie wasn't in the picture. She has helped me with scholarships, homework, and getting a job for the summer. I think of her as more than just a big sister, but as a little bit of everything to me." Although their match at Big Brothers Big Sisters timed out as Frida graduated, the two stay in constant contact.
---
Get Involved
Are you interested in becoming a Defender of Potential like Abbie? Click on the links below to get involved with Big Brothers Big Sisters today!