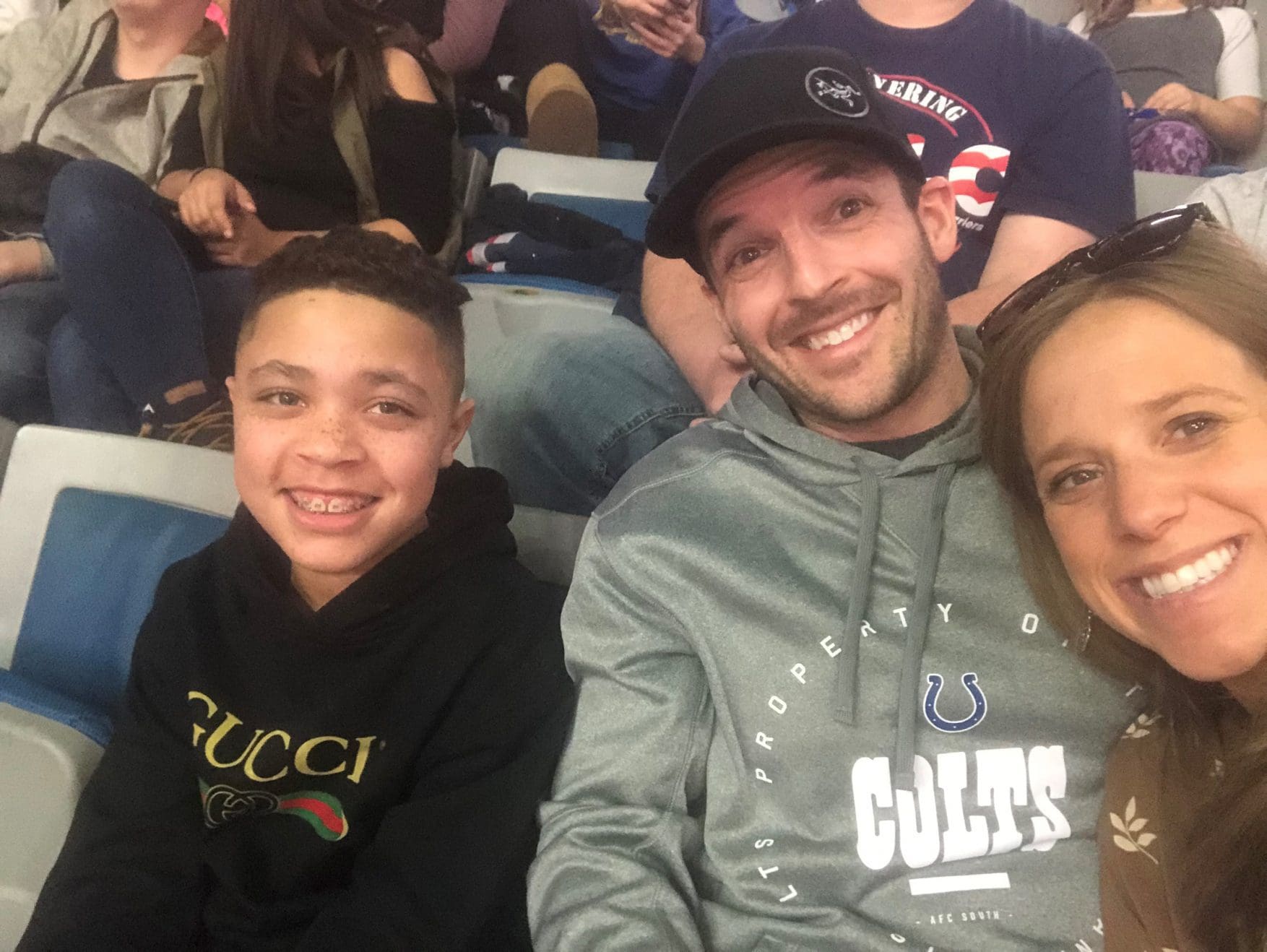 Little Brother Jordan and Big Couple Tom & Cara
---
"Jordan helps us get out of our daily bubble. It's good to have such a wonderful kid to be around. We love being able to be a good influence." – Big Sister Cara
---
Outgoing, energetic, bright, and sports-loving, Jordan has always been an immense perfectionist. He always strives for things to be 100% right. Jordan struggled with responding properly whenever he missed the mark, often getting frustrated with himself. To help him, Jordan's mother enrolled him with Big Brothers Big Sisters in hopes that he would be matched with a positive male role model and be encouraged in his self-esteem and confidence.
Since their match in 2016, the two began having weekly lunches resulting in a quick connection. When they started having outings beyond their normal lunches, Tom's wife Cara began to come along. Before long, Tom and Cara formally became a Big Couple, mentoring Jordan and frequently bonding over sports together. "I like having a Big Brother and a Big Sister, not just a Big Brother," Jordan says.
Jordan has said early on that, "it's fun getting to know Tom and Cara and do things with them. They are excited to hang out with you. Our match relationship is already a friendship! I love that Tom and Cara are adventurous, and they like to explore and try new things."
Fun Activities
Throughout their three years together, Jordan has experienced many new things such as mud runs, museums, and even virtual reality games. All three are huge sports fans so over the years they've enjoyed attending basketball games, football games, and often eating at Buffalo Wild Wings, their favorite restaurant, where they can watch sports games while they eat.
Tom and Cara have continually encouraged Jordan to pursue his dreams and aspirations for athletics and academics over their years together. He now plays both basketball and football and continues to show an incredible talent for many sports. Tom and Cara have constantly supported Jordan and even attended some of his games.
For one of their Match Anniversaries, Jordan's mom made them all t-shirts to show her gratitude and support for the influence of Tom and Cara in Jordan's life. She said, "I feel great about their friendship. Jordan really enjoys his time with Tom and Cara. He always comes home with stories about what they did together."
With the patient and continual encouragement from Tom and Cara, Jordan has begun opening up and gaining more self-confidence. Tom has noticed, saying, "Jordan has been a lot more open talking about his personal life with regards to school and his friends. It's been really cool to see. We have loved being a part of his life. Jordan is a good kid and definitely matured the past couple of years!"
Some Reflections
Whenever he talks about Tom and Cara, Jordan gets very happy and excited. He said, "Tom and Cara are great people and I love being with them. I like that they're funny and cool, and have pretty chill personalities. We have a lot of fun together because my Bigs are generally awesome, both of them."
"We like being active together so we do that stuff often. He connects really well with both of us," said Cara. Indeed, the three have developed a strong familial bond and have maintained consistency despite changing life circumstances. Since the start of their Match, Tom and Cara now have their own little kids but have continued to be involved in Jordan's life.
According to Big Sister Cara, "it's so fun to see the relationship grow! Jordan tries new things with us and definitely talks more! He helps us get out of our daily bubble. It's good to have such a wonderful kid to be around. We love being able to be a good influence." Big Brother Tom Tom echoed her sentiments saying, "We like having fun with him and spending time with him. It's been a good experience!"
Jordan said recently of their Match, "Tom and Cara help me to be a better person."
---
Get Involved…
Are you interested in becoming a Defender of Potential like Tom and Cara? Click on the links below to get involved with Big Brothers Big Sisters today!