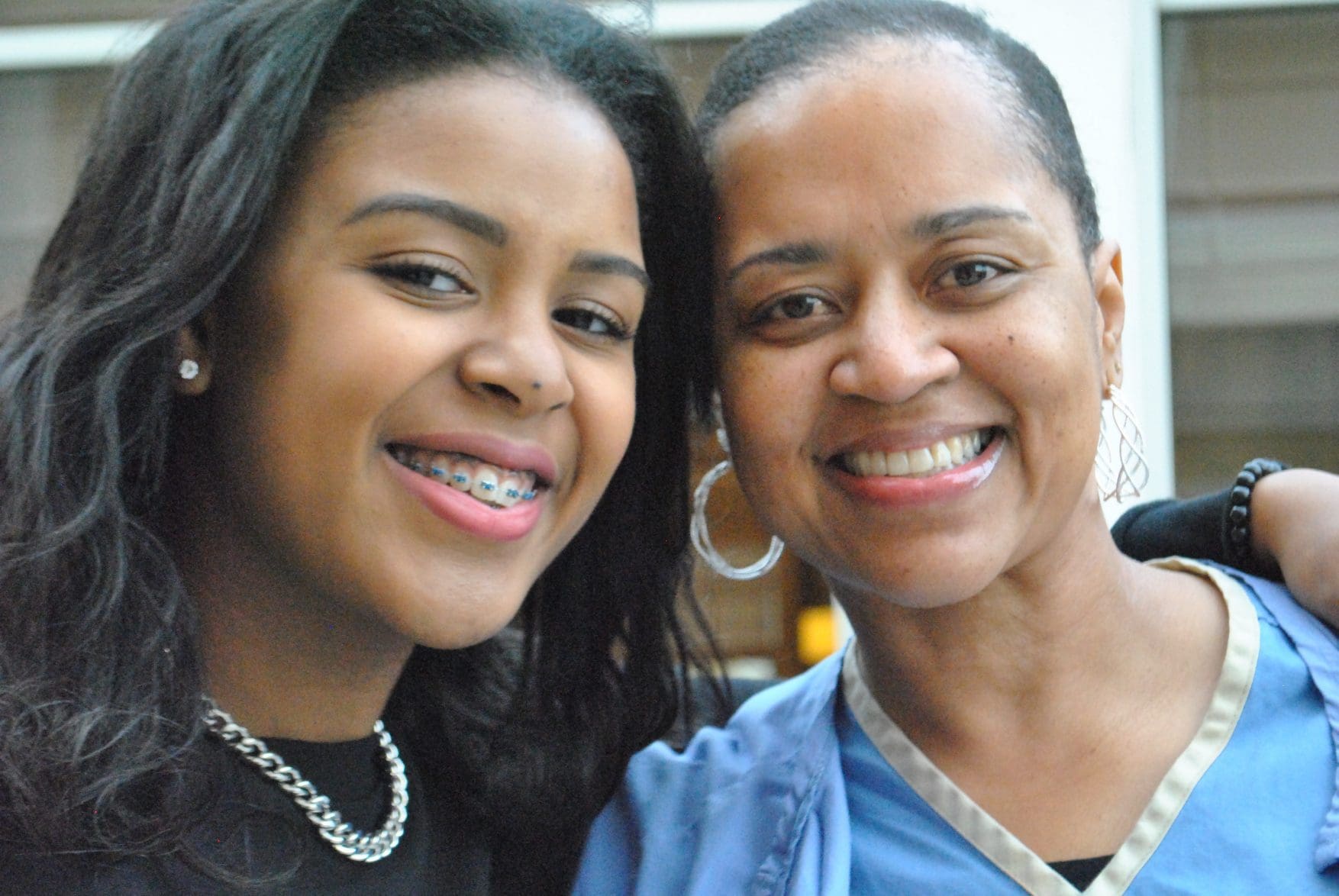 LITTLE SISTER MARLANA & BIG SISTER DEA
"We all absolutely love Big Sister Dea. Dea is such a great woman and role model for Marlana. I see such a change in Marlana for being in this program." – Little Sister Marlana's Grandmother
Family friends for years, Marlana and Dea have known each other long before they became an official Match in 2014. Marlana's Grandmother Burchell signed Marlana up to be a Little just so she could be formally matched with Dea who was already a Big with Big Brothers Big Sisters. On their first official outing, Dea recalls, "we did our first volunteer activity for Generosity Feeds and Marlana TOTALLY did not want to go! She thought it was going to be boring. We went, she met many of my co-workers and saw some kids she went to school with. It was party style with a DJ and music as we packed complete meals in a bag for hungry kids in our community. At the end, she got a t-shirt and she understood why we were doing this. On the way home, she told me she had fun and was glad we did it!"
The adventure became just the beginning for a deep friendship to come.
"I thought that Dea would be a nice woman figure in my life that could help with little things and just be around occasionally." Marlana explained. "No one could have ever told me that she would mean as much as she does to me now." Since their first official outing, Dea and Marlana have gotten together countless times, always making time for each other whether they were busy or insanely busy.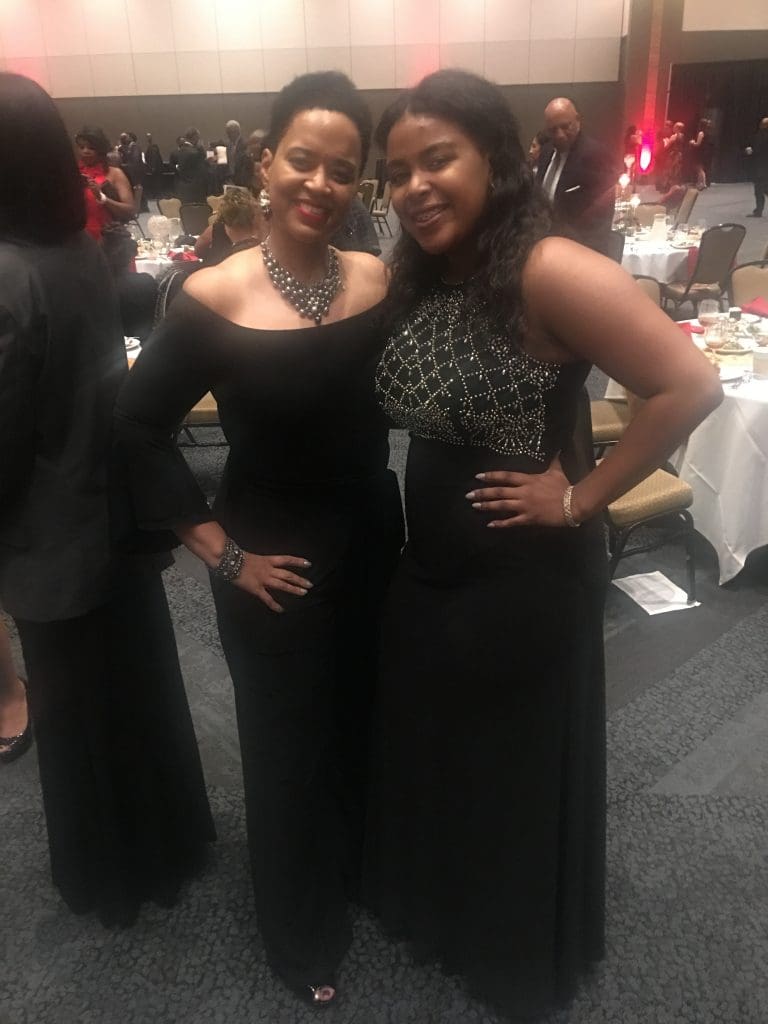 With Marlana busy at dance competitions, Dea made an effort to spend time with her through this activity. Marlana said, "Dea has become very involved with my dance competitions. She helps me with all of my costumes and keeps my hair looking neat and all that good stuff."
"I was her dance mom," Dea likes to say.
When Marlana entered high school, the pair spent many outings bonding together over their full time classwork as Dea was working on her master's degree at the same time. On top of being full time students, both Marlana and Dea worked full time jobs which kept them extremely busy and often made get-togethers difficult. Marlana explained her perspective saying, "Dea and I are both understanding of this difficulty because we understand how important both of our educations are. It's pretty awesome to have a successful, talented black female to look up to. It has definitely been rewarding to have someone like myself that I can look up to."
If Marlana and Dea couldn't get together one week, the pair would text or talk on the phone. "We send each other funny things to brighten each other's day when the other is stressed," Marlana said. "We can't go a week without talking to each other!"
Dea explained once, "I strive to set a good example for Marlana in everything we do during our time together! In everything, I try to teach her confidence, happiness, self-esteem, self-worth, work ethic, and a positive attitude. I want her to see those things in me. After all, seeing is believing! I want her to have the high self-esteem, confidence, positive attitude, and work ethic required for college success! I want her to have a clear understanding that it is her responsibility to make good choices, work hard and have some fun along the way to preparing herself for adulthood. Becoming educated, employed and self-sufficient is a MUST!"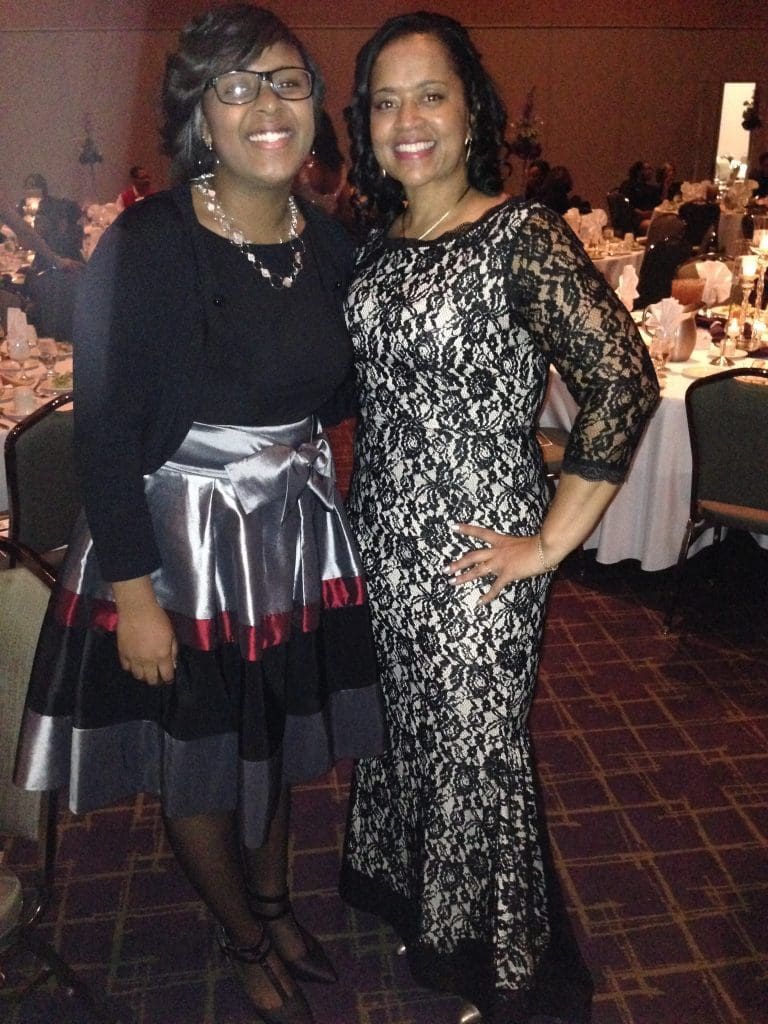 These lessons have certainly impact Marlana who described her academic focus saying, "I've maintained a never-ending dedication and determination throughout my career as a student. My education has always been number one on my priority list, absorbing every ounce of knowledge that is offered to me. I have faced many struggles that could have jeopardized my future and reputation; however, I have never stopped striving to be the best that I can be."
As Marlana neared the end of high school, her efforts certainly paid off. Even taking three math classes at one time and being involved in at least five extracurricular activities, Marlana graduated in 2018 with high grades and plans to attend Ball State to major in accounting. She dreams of being a head accountant at a major company like Google or Apple.
Dea very proudly said, "I like that I have an impact on Marlana. It's refreshing to get to hang with a young woman that wants so much for herself and is willing to do what is necessary to get there. I am so proud; Marlana has come so far from our first day to now. She has good grades, a great outlook on college and working – and wants all those things. I am so happy that Marlana is taking control of her future and exploring independent endeavors that will enhance her future. Marlana and I are so similar, and we have both made a big impact on each other. I am so proud of Marlana for everything that she has accomplished and I will always be there for her. I just want her to reach her full potential in life. I want her to KNOW she can do anything with her life that she chooses."
Recently, Dea commented, "A memorable moment for me was the very first time Marlana told me how much I mean to her and how much she appreciates me. She thanked me for my presence in her life! It warms my heart to see big improvements in her from the little things I do and the little time I have to spend. When I first thought about becoming a Big, I was hesitant for a while because my lifestyle is SO BUSY that I didn't think I had the time! I absolutely did not. Once I made the commitment though, I have realized that it does not take a lot of time to make a big difference in a child's life. I like the feeling of making a positive difference and being a positive influence in a girl's life!"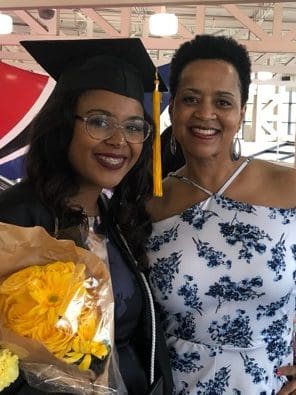 Dea's commitment to Marlana has impacted more than just Marlana. She has also made an incredible impact on Marlana's Grandmother, Grandma Barchell. Grandma Barchell said, "Dea has helped both Marlana and myself grow. I understand that I'm a grandmother with old fashioned ways, and I tends towards strict rearing, so she helps coach me about being relatable and understanding. Dea just helps keep us grounded. I am very happy with their relationship together. Dea is wonderful, Marlana looks up to her. Dea really takes time to help me with Marlana. I look at Dea as the daughter I never had before. Dea has always been very hard working, very smart, and intellectual. I knew her parents and I've enjoyed watching her grow, and when Marlana was old enough, I specifically wanted to make it official to have Dea as a part of the family."
Dea wrote recently, "Having a Big Sister has honestly been one of the best things that has ever happened to me. I couldn't ask for a better Big. I couldn't ask for a better program to be a part of. My future goals for myself have changed tremendously since I've been in the Big Brothers Big Sisters program. Before, I wasn't sure what I wanted to have a career in or if I even wanted to attend college. Now, I know. I believe I have been a Little for about five years and I do not regret one decision I've made since I've joined. Every moment with Dea is memorable. Whether it was a 20-minute drive home from dance practice or a whole day just helping her run errands. She makes me feel like I am a part of her family every time I am with her. She is always there when I need her. She has become real family to me. She is amazing and I don't know if I would be where I am today without her. Having someone so considerate and understanding is so comforting in, what some people call, the rough patch of life. I wouldn't trade Dea for the world; she is much appreciated and loved!"
According to Marlana's Grandmother, "Marlana and Dea have such a strong bond that will last forever."
Ignite potential and stand with us today.