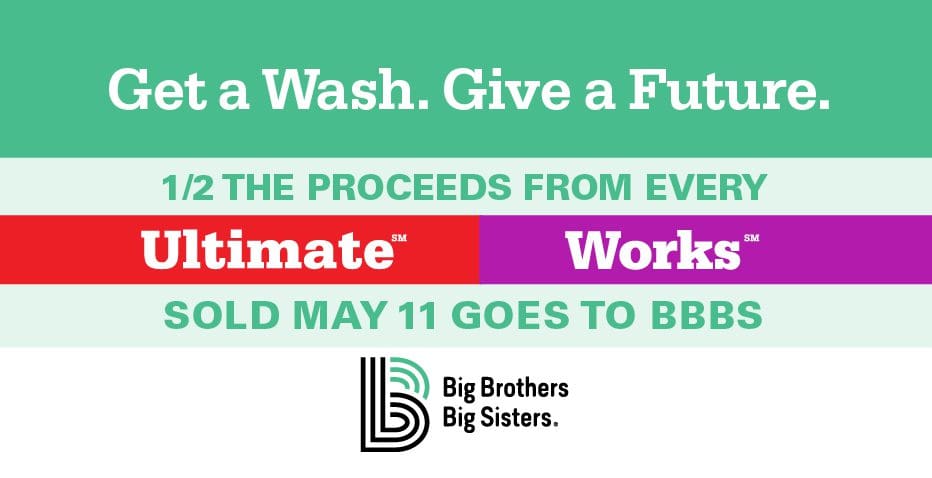 All 6 Mike's Carwash locations will donate half the proceeds from every Ultimate and Works Wash purchased on Saturday, May 11.
For the entire Saturday event on May 11, 2019, our agency will receive 50% of any "Works" or "Ultimate" washes that are purchased!
Fort Wayne Mike's Carwash will partner with Big Brothers Big Sisters for the tenth year in a row to raise money for their youth mentoring program. On Saturday, May 11, the company will donate half the proceeds of all Ultimate and Works washes sold throughout the day. There will also be donation buckets on site at all locations to allow customers the opportunity to contribute a personal donation, if they desire to do so. All proceeds and donations will benefit Big Brothers Big Sisters of Northeast Indiana.
The fundraiser will be held from 7 a.m. to 9 p.m. at all 6 Mike's Carwash locations. Bigs and Littles, media personalities, radio stations and other special guests will be on site with free goodies and coupons for local stores and chains throughout the day at each Mike's Carwash location. This is an annual fundraiser that you won't want to miss!
"We are so appreciative of all of our team members, customers, media partners and other local businesses that support the event and allow us to continue this fundraiser year after year," says Mike Dahm in 2017, president of Mike's Carwash. "This day is all about raising money for Big Brothers Big Sisters and supporting their mission of providing children facing adversity with strong relationships and positive change. We are praying for good weather and encourage everyone to come get a wash and give a future."
For more detailed information or if you're looking for ways to get involved, email Director of Development Shelley Schwab at [email protected] or call at 260.456.1600 ext.2259.