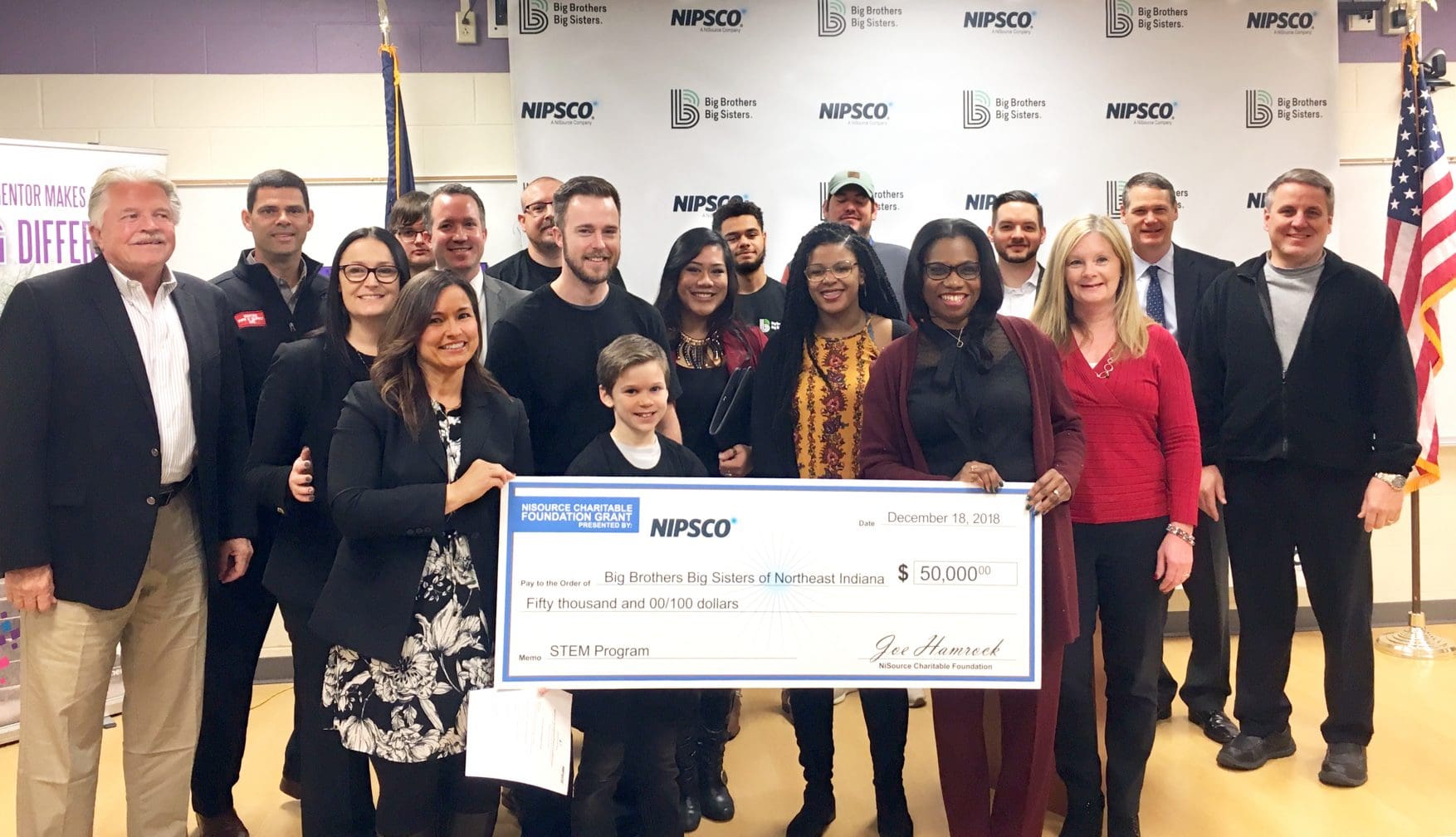 Big Brothers Big Sisters Receives $50,000 Grant to Launch the NIPSCO Academy – a STEM Program for Local Children
Fort Wayne, IN – Big Brothers Big Sisters of Northeast Indiana (BBBSNEI) unveiled at a press conference on Tuesday, December 18, 2018 their first ever STEM programming initiative: The NIPSCO Academy: Mentoring Youth in Science, Technology, Engineering and Mathematics.    
The announcement and celebration focused on a $50,000 contribution presented by NIPSCO from the NiSource Charitable Foundation. The grant will allow BBBSNEI to introduce STEM activities to their Bigs and Littles enrolled in the Big Futures mentoring program, which caters specifically to at-risk youth, ages 13 to 22 and focuses on intentional preparation for college, career, or military.
Funding will provide for the materials, kits, and technology to conduct a series of monthly workshops for one full year, giving youth with the greatest need and least opportunity the ability to foster an interest in STEM programs, and address local issues of developing and retaining qualified graduates within the region.
"We want to provide exposure to STEM in a fun and unique way. STEM is something not often offered to our Littles. More than 33% of our Littles are ages 13-22 – a great age to introduce STEM. All of the children we provide services to are full of potential and when placed in a one-to-one learning environment with their Big, they display a unique desire and ability to learn," said Josette Rider. "There is a strong need to help kids explore career options, and with the help of NIPSCO and the NiSource Charitable Foundation, this initiative will not only provide a head start on educating but also ignite an interest in these fields, uncovering untapped talent within a demographic of children not significantly and purposefully exposed to STEM."
"At NIPSCO, we're committed to preparing the next generation with the tools they need to succeed," said Jennifer Montague, NIPSCO VP of communications and external affairs.  "As such, we are pleased to support the NIPSCO Academy in support of STEM programming taught through one-on-one mentoring, a critical component to education."
The Press Conference included many people who are invested in the mission of Big Brothers Big Sisters including:
Aaron Schaffer – Board President
Monica Mendoza – Training Coordinator
Jennifer Montague – NIPSCO Vice President of Communications and External Affairs
Josette Rider – CEO of BBBS of NEI
Big Brother Josh Metcalf and Little Brother Robert
Big Brother Patrick and Little Brother Tyson