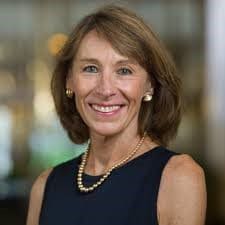 Big Brothers Big Sisters is proud to celebrate and recognize Kathy Callen for her outstanding leadership and philanthropic efforts with the 2018 Diane Humphrey Award.
Living, loving, and looking at life with an open heart. Mother Teresa notably said, "Faith in Action is Love – and Love in Action is Service." Putting care and concern for others at the forefront, Kathy Callen quietly makes a significant impact everywhere she goes. Known for her compassionate nature, optimistic attitude and cheerful personality, like Diane Humphrey, Kathy is a living legacy who devotes her time and energy to helping others and building a community. With kindness, honesty, and gratefulness at the core, she is a proven community leader, dedicated friend, and mentor to many.
A native of Fort Wayne, Indiana, Kathy graduated from Bishop Luers High School and received her Bachelor of Science in Finance degree from Indiana University in Bloomington. Kathy was inspired to study finance and business, by her parents, Richard "Dick" and Mary Louise "Weezie" Doermer.  After graduation, she moved to Cincinnati for a job opportunity and furthered her education, obtaining her MBA from Miami University in Oxford, Ohio.
She returned to Fort Wayne to work at Indiana Bank, which she liked, because they were very family-oriented.  She also got to watch her Dad work and see how he interacted with his co-workers,  a true privilege.  Then Kathy made the decision to stay home and raise her children. Never one to sit idly by on, Kathy often volunteered at their schools and within numerous community organizations. She actively supports and provides leadership council with Big Brothers Big Sisters, Canterbury Schools, the Fort Wayne Boys and Girls Club, the Fort Wayne Rescue Mission, Miss Virginia's Food Pantry, SCAN, the United Way, as well as the Community Foundation of Greater Fort Wayne, the Doermer Foundation, the Fort Wayne Riverfront Development, Fort Wayne Parks Foundation, Purdue Fort Wayne, the University of St. Francis, and the Vera Bradley Foundation. Additionally she is a member of the Fort Wayne Downtown Rotary and Fort Wayne Quest Club. Her passion for people, keen sense of business and passion for the community, Kathy has proven to be a driving force for change, touching the lives of many and the community we live in.
Today, Kathy and her husband, John Powell reside in Fort Wayne where she is the Community Engagement Officer at Old National Bank. She loves to travel, garden, and puttering in the kitchen as well as the outdoors. In her spare time, she enjoys riding bikes with her husband, spending quality time with her family, and listening to John Denver. It's her honesty, professionalism and genuine commitment to family, friends, and community that makes Kathy an inspiration to all she encounters.
About The Award
Established in 2012 and named in honor of its inaugural recipient, this special accolade recognizes women who demonstrate passionate volunteerism, strong community leadership, and a lifelong commitment to serving others.
For more than 50 years, Diane Humphrey has created a living legacy of civic service as an educator, mentor, leader, and community advocate. Her life serves as testimony to the incredible impact female volunteers create every day. Past recipients of the Diane Humphrey Award include Sue Shilts (2013), Kathy O'Shaughnessy (2014), Sherri Milton (2015), Corinna Ladd (2016) and Lisa Sorg (2017).
Check out the video here.